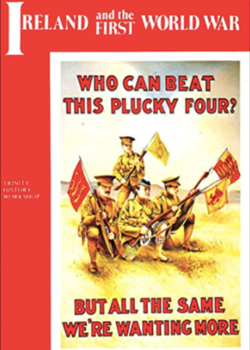 xiii, 120 pp, illustrated. Paper cover. 
IRE5.95. The Lilliput Press, Gigginstown, Mullingar,
Co Westmeath, Republic of Ireland.
1988. ISBN 0 946640 34 4. 
This book, written by students from Trinity College, Dublin, first appeared in 1986. It sold out almost at once and has now been revised and expanded. 
A quarter of a million Irish men enlisted in the British Army in the Great War and many thousands of them died; it may surprise some British readers to learn that there seems to have been very little done to remember them. Easter 1916 and the formation of Ulster and the Irish Free State in 1922 prevented remembering developing as it did here — they had a war against Britain as well as against Germany. 
Things seem to be changing now and an archive has been established after so many years of neglect and some valuable research is being done. The book consists of a series of short articles on a wide variety of aspects of the war from the Catholic chaplaincy, recruiting posters, civilian voluntary aid to recruiting and memorials, all of them interesting. 
I learned much from the article on memorials; for example, that most Catholic churches and schools do not contain memorials, many of them favouring pulpits, bells, halls or organs instead. The National War Memorial at Islandbridge, Dublin, is much vandalised and neglected. The memory of the Irish dead deserves much more and we can only hope that the movement being led by David Fitzpatrick will cause something to be done. 
Members with information on Ireland's involvement are asked to contact Mr Fitzpatrick at the Department of Modem History, The University of Dublin, Trinity College, Dublin, 2. They deserve our support.
[This review by Bob Wyatt first appeared in the Summer 1989 edition of Stand To! No.26]