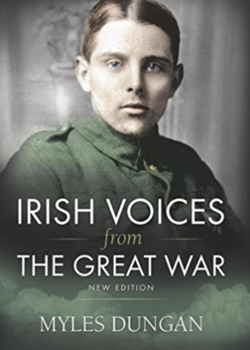 [This review first appeared in the September 2001 edition of Stand To! No. 62]
Irish Academic Press
Dublin, 1995, 219pp. $34.50.
ISBN 0 7165 2573 9.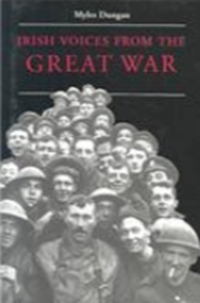 The Great War was the last time all Ireland fought a war as part of the British Empire. Indeed, Nationalists hold that the Great War gave birth to the legal entity that in time became the Republic of Ireland. As Dugan notes in this bitter sweet registry of Irish soldiers' emotions, the majority of Ireland-born soldiers in the war were Southerners, Catholic and at least indirectly, dedicated to defence of the Empire. Their motives on a personal level were suitably prosaic: high idealism; a need for work; a thirst for adventure; and a means to escape Ireland's confining lifestyle and dreary poverty.
Bonding among officers and soldiers from the Protestant North and the Catholic South was often intense, and had events on the home front not been burdened with conscription and then civil war in the South perhaps an Ireland free from communal violence would have been a happy offspring of this sanguinary conflict. Comrades in arms in France and Gallipoli later found themselves engaged on opposite sides of a truly fratricidal conflict in Ireland itself. Indeed, soldiers recruited from the Protestant communities in Ireland were determined to seek permanent membership in the Empire by performing a record of valour so persuasive as to make it impossible for British statesmen in the post-war period to deny Ulster the privilege of remaining part of the United Kingdom.
After the War there was a tendency to disparage the contributions of Irish officers and soldiers - whether they be from North or South. Worse yet, during the war of attrition there was a tendency towards a callous decimation of the integrity of Irish units. General Sir Hubert Gough, at once Irish and inept, was particularly insensitive to Ireland's craving for recognition as a nation inside the Empire; too many Irish soldiers in one place was a recipe for disorder and even rebellion. Irish units were systematically suppressed into other units during the last great German offensive that pulled the war back to the suburbs of Paris.
Dungan has succeeded brilliantly in providing context for this remarkable compilation of testimony: and a second volume is promised, addressing some of the issues that arose during and out of the war itself: trench warfare; command structures; nationalism; and unionism. General Gough will come under hostile fire a second time. 
Review by Edward Brynn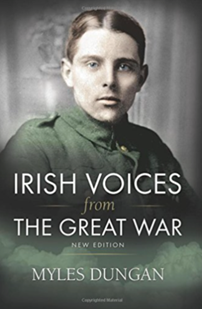 Irish Voices from the Great War (new edition) by Myles Dungan 
[This review first appeared in the January 2016 Edition of Stand To! No.105]
Merrion, £65.00, hb, £18.99pb
notes and refs, bibliog, index. 
ISBN: 9–781–908–928–818 
This is a revised edition of a book first published some twenty years ago. Its publisher is an imprint of Irish Academic Press. Its price is in consequence, it must be said, suitably – academically – ridiculous. But Irish Voices from the Great War posed this reviewer a number of other problems. Whilst containing a wide variety of worthwhile letters, diary extracts and recorded words of Irish Great War veterans, in terms of scholarship I consider it sadly disappointing.
It is not that the author fails to reveal the true horror of his subject's experiences. Like all who served, the volunteers from Ireland shared them. However Myles Dungan's tone and commentary feels twenty years old, perhaps older. He seems shackled in the distracting mire of opinions of lazy, hand–me–down historians. His overall simplistic view remains – like that of the likes of Alan Clarke, John Laffin and the dissembling Dennis Winter – that the 'lions' of the rank and file were led by 'donkeys'. For the more recent re–evaluations of the Great War by Gary Sheffield and many other significant academics and military historians – who have closely examined the realities behind the 'butchers and bunglers' rhetoric – Dungan appears to have no place, even in the bibliography. Here the true realities of commanding and building a war– winning army, of overcoming the effective loss of a small army and its trained officers in 1914, the incredible task of learning to fight a war of then unimaginable length, breadth and depth seem ignored in the author's judgement. 
A harsh question perhaps, but one which must be considered is this: is it still considered simply a more acceptable approach to publishing in a nation which, after independence from British rule and a vicious civil war, treated those who volunteered for the British Army as pariahs? Indeed, only relatively recently has the Irish volunteers' service to the United Kingdom and the British Empire become a legitimate, acceptable, subject for remembrance in the Irish Republic. Dungan covers the experiences of Irishmen in the BEF of 1914 and at V Beach and Suvla Bay in Gallipoli. Inevitably, and understandably, the experiences of the men of 36th Ulster and 16th Irish are covered as are those of the men of 1917. Another valuable addition to this work is a chapter drawn from the fascinating unpublished diaries of Captain N E Drury (Royal Dublin Fusiliers) who, after Gallipoli, served as one of the 'gardeners' in the often overlooked fields and mountains of Salonika.  Finally, perhaps one feels inevitably, the final chapter on 1918 is titled 'From Calamity to Closure'. What happened to the word and the reality of 'victory'? That said, the six chapters of this book, and a fascinating, highly discursive, author's afterword, are by no means without value. The price is something else.
Review by David Filsell 
This edition is currently available NEW ffrom Abeooks for £52. The earlier edition for under £5.