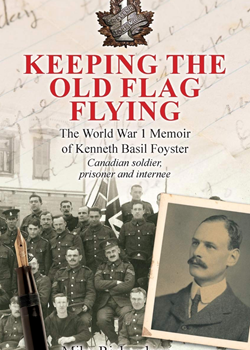 By Mike Richardson 
Book Printing UK (2019), £12.99 (Amazon), 328pp, pb, 28 in page ills, 3 maps, sources, ISBN: 978–191–269–439–6
There is very good material in this well– presented account of Kenneth Foyster's war. I was particularly interested in his account of his time on Salisbury Plain in 1914–15. Certainly, I cannot recall many individual memoirs that offer so much information about the four months spent there by the First Canadian Contingent.
Kenneth Foyster had various jobs in Wales, Germany and Canada where, like so many British immigrants, he led a somewhat hand– to–mouth existence. He enlisted in the 88th Victoria Fusiliers on July 29, 1914 – when he felt it obvious that war was imminent. Within a week he was guarding Bamfield on Vancouver Island (the end of one of two trans–Atlantic cables) before joining the First Canadian Contingent at its vast new assembly and training camp at Valcartier.
After further training of sorts on Salisbury Plain in almost relentlessly poor weather), as a member of 7/Battalion CEF, he was wounded and captured in the Second Battle of Ypres and taken to a prisoner–of–war camp in Göttingen which housed British, French, Belgian, and Russian prisoners. His wound was slow in healing, a state of affairs which finally led to his transfer to neutral Switzerland where he was interned at the holiday resort of Mürren; the Swiss Government being happy to see the hotels empty because of the war, put to profitable use. (See the article 'A PoW who Made it to Switzerland' by Andre Chissel on pp.34–40)
Although there were parades and inspections of various sorts and the internees organised their own amusements with occasional concerts, the major challenge faced by internees like Foyster was to fill time. Relations were allowed to visit, and he was surprised by the arrival of his sister Ada. 
Kenneth Foyster describes an array of colourful characters among his comrades; senior officers, British women living locally and a succession of chaplains and welfare officials. Although some men were repatriated, in 1918 the first cases of Spanish influenza caused some deaths amongst the internees; a particularly sad end for those who had endured combat, wounding and years of confinement.
The Armistice saw a prompt start to repatriations, although Kenneth Foyster was one of the last to leave, arriving at his sister's home in Northamptonshire in time for Christmas 1918. He re–joined 7/Battalion at Seaford, before sailing home to Canada in April 1919.
Foyster's original memoir was well written and Mike Richardson has done an excellent editing job by incorporating explanations of events and the background to people and places. He has also gone to some trouble to identify those imprecisely named in the original memoir. 
Keeping the Old Flag Flying provides an unusual and worthwhile perspective of the experiences of the First Canadian Contingent, of being a prisoner of war and, perhaps most significantly, of life as an internee in Switzerland. 
Review by David J Filsell (DJF)
[This review first appeared in the February 2020 Edition of Stand To! Members receive each year three copies of Stand To! and three copies of our member magazine Bulletin, as well as additional 'Specials' as published - there are two of these in 2020].