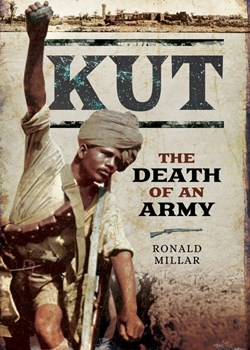 Review by Timothy Heck.
Kut's tragedy rings out as "the most abject capitulation in Britain's military history."  Given British defeat at Yorktown in 1781 and the 1942 surrender of Singapore, this is quite a claim for a battle on the periphery of the Great War. Led into defeat by General Charles Townshend, British forces, including a large Indian Army contingent, spent five months entrapped by an ever-growing Turkish force before surrendering in April 1916.  With dwindling supplies and an increasing toll from disease and malnutrition, thousands of Imperial soldiers died waiting for rescue as Townshend frittered away what combat power he had through indecision and ineptitude.  Ronald Millar's Kut: The Death of an Army recounts the siege from the British perspective of the officers and men trapped inside Kut, revealing shortfalls in logistics and planning that sealed their fates.
Millar starts by recounting British failure at Ctesiphon in late November 1915 and the operational-level implications that defeat portended.  Envisioned as the next victory over an inept Turkish military, taking Ctesiphon was supposed to be the next victory en route to seizing Baghdad and breaking the Ottoman Empire.  Townshend, opposed to the advance, was overruled by his superior, General Sir John Nixon.  Following orders, Townshend's 6th (Poona) Division of around 11,000 men, advanced north to Ctesiphon where they were stopped after several days of hard fighting by Turkish soldiers.  Efforts to push towards Baghdad ended as British casualties approached 40% and Townshend was forced to retreat south in order to rebuild.  By 6 December 1915, Townshend's forces retreated into Kut.  
Once the British were fixed in Kut, Turkish units slowly surrounded the city and began constricting the British forces through a series of encircling trenches and probing saps.  Attempting to capture the city through force, the Turks commenced a series of unsuccessful assaults on British defensive lines.  After being repelled multiple times, at great losses, Turkish commanders switched to siege warfare and began shelling and sniping at the trapped British.  Of note, Millar attributes this change in tactics to the Germans.  Referencing Oberleutnant von Kiesling's Mit Feldmarschall von der Goltz Pasha im Mesopotamia und Persien, Millar states the arrival of the German Field Marshall led to a change in Turkish tactics.  "The new supreme commander forbade any further attempt to take Kut by storm...to him it appeared to be a better plan to starve the garrison into submission" (97-8).  The implication that Turkish commanders were ineffective is one worth addressing, though Millar does not do so, rather relying on German source material.  
As the siege continued, British commanders launched a series of relief attempts in order to lift the siege.  Pushing north from Basra, the closest came to within hearing distance of the defenders of Kut before being beaten back by stiff Turkish defenses.  Ultimately, all were unsuccessful and cost the British over 23,000 officers and men killed and wounded (284-5).  British commanders failed to effectively mass their forces in order to break through Turkish defenses, instead bringing units in piecemeal in an effort to lift the siege.  Furthermore, the defenders were not used to launch spoiling attacks or to tie down Turkish units being sent to defeat the relief columns.
After failed ceasefire negotiations with the Turkish commander, Townshend surrendered his depleted garrison on 29 April 1916, with approximately 13,000 British troops marching into captivity.  Almost 4,000 died as prisoners of war due to a variety of causes, including malnutrition and abuse between capture and release in 1918.  The Mesopotamia Commission, established in August 1916, "found the weightiest share of responsibility lay with Nixon whose 'confident optimism' was a main cause of the decision to advance on Baghdad" (286).  The Commission also noted the breakdown of logistics support, including failure to provide adequate medical coverage or supplies.
The aphorism that amateurs study tactics while professionals study logistics echoes loudly throughout the book.  From the outset, logistics problems and shortfalls should have urged caution from the outset but were overlooked after relatively easy victories and advances earlier in the campaign:
"There were no heavy guns; although a plan to form an air corps had been approved
shortly before the outbreak of war nothing had yet been done about it.  Other
deficiencies included such items as wire-cutters, telephones, transport for drinking water,
Very lights, signal rockets, tents, mosquito nets, sun-helmets, periscopes, telescopic
sights, loophole plates, flares, hand-grenades and even blankets and clothing." (4)
Food was also in short supply.  Dietary restrictions among the the Indian troops precluded many of them from eating horse meat, a main staple as the siege progressed.  The lack of food, or the refusal to eat what was at hand, led to a variety of debilitating diseases caused by malnutrition, further reducing the defender's combat power.
British logistics problems did not end with sustainment shortfalls.  Throughout the Mesopotamian campaign, British forces suffered from inadequate medical care in a climatically challenging environment where a multitude of deadly diseases were endemic.  The loss of eight doctors at Ctesiphon reduced the number available for service during the retreat and siege.  Furthermore, medical orderlies previously evacuated could have been useful in treating the growing number of wounded and ill.  During one relief attempt, "there were scenes [of uncared for wounded] which witnesses described as being reminiscent of the Crimea" (143).  After over a year of campaigning in Mesopotamia, "there was still not one hospital ship" (143) available.  So devastating was this lack of medical planning or preparation that Millar describe it as the "most acute" shortfall (4).
Supply shortages of all kinds were compounded by the anemic lines of communication which were already overstretched.  All British supplies in theatre had to flow through Basra.  Analysis by Sir George Buchanan, who arrived in Basra to assist Nixon in improving the port, revealed just how poor the main port of entry was.  He later remarked, "I had never before in my life seen such a hopeless mess and muddle...It seemed incredible that we should have been in occupation of Basra for over a year, so little had been done in the time" (129).  Basra's port facility, Millar writes, was "nothing more than an anchorage and a swamp" (130).  Buchanan, who had spent years as the chief engineer of the port in Rangoon, was roundly ignored or marginalized by Nixon and his staff at the cost of the opportunity to improve lines of communication.
Millar's strongest writing is in his portrayal of the individual soldier, be he the commander or a common private.  Townshend is the book's central character, which makes sense as he was the commander and left a memoir from which Millar draws heavily.  Ultimately, Townshend cannot be held responsible for the failure in planning in India or logistics at Basra, though these each helped doom his men.  Nevertheless, his inability to effectively lead once inside the siege are well-explored by Millar.  Millar's inclusion of common soldiers and junior officers is admirable, helping reveal the battle from the bottom-up.  Unfortunately, many are unnamed or anonymous, giving the reader few to latch onto.  
Millar's book, originally published in 1970 as Death of an Army: The Siege of Kut, 1915-1916, remains a concise and engaging telling of the siege from the British perspective.  As such, it is limited in its ability to tell a balanced picture of the battle.  Furthermore, given that it was originally published almost 50 years ago, Millar lacked access to many of the archives that have since opened.  Recent scholarship, including Nikolas Gardner's The Siege of Kut-al-Amara: At War in Mesopotamia, 1915-1916, should be read before Millar's work.  Readers looking for a better understanding of the Turkish army should read works by Edward J. Erickson in order to flesh out the largely faceless victors of Kut.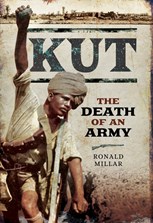 Millar, Ronald.  
Kut: The Death of an Army.  
Barnsley: Pen & Sword Military, 2017.  
ISBN: 978-1-47389-200-2.
Timothy Heck
King's College, London.  
Twitter @tgheck1.