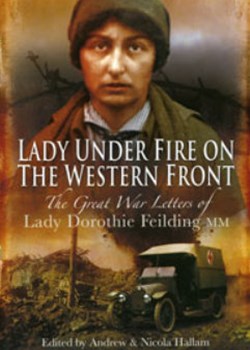 ISBN: 978 1 84884 322 6
Publisher: Pen and Sword Books Ltd.
Lady Dorothie Feilding was the first British woman to receive the Military Medal for her actions under enemy fire during the Great War. She was the fourth of ten children of the Earl of Denbigh and his wife Cecilia, and was just a few weeks short of her twenty-fifth birthday when she went to Belgium in September 1914 as a member of the Munro Motor Ambulance Corps. During the following three years she wrote to her mother almost daily, and a selection of her letters form the basis of this book, edited by Andrew and Nicola Hallam.
After a few weeks' training in elementary nursing, Dorothie Feilding embarked on an arduous and challenging life as an ambulance driver giving aid to the Belgian and French armies, initially near Ghent, and then close to the coast at Furnes [Veurne] between Nieuwpoort and Dunkerque. Her living conditions were austere and, for a young woman raised in comparative luxury, the privations of her life in Belgium would have been difficult in peacetime, but the addition of near-constant shelling by German artillery created a situation of uncertainty and danger unimaginable before the war.
The book starts with a preface which briefly sets the scene, followed by fifteen chapters each covering a short span of dates. Throughout the book the letters have been allowed to tell their own story with only a minimum of additional material and explanatory notes. The early letters express Lady Dorothie's enthusiasm for everything she comes across in such a new and unusual environment, and include some longer descriptive passages relating to her time in Ghent and the early days under shell-fire at Furnes. However, as the book progresses, the letters diminish in content and interest and would have benefited by a greater degree of editorial support and background information to bring them alive. There is scant mention of the war, or how she spends her working day - she must have faced great danger on a regular basis, but few of the trials of life in a war zone are evident in many of the letters.
Lady Dorothie's position as the daughter of Rudolph Fielding, 9th Earl of Denbigh and career soldier, opened many channels for meeting and social mixing while she was in Belgium. She formed a close relationship with the family of Charles de Broqueville, Prime Minister of Belgium, and also with Prince Alexander of Teck, and she had enough inherent social confidence to refer to His Majesty the King simply as 'GV'. Her relaxed attitude with people of all classes eased her way through difficult times. However, I felt I wanted to know much more about her early life and her family, particularly her mother's part in running the convalescent home at Newnham Paddox. I would also have welcomed information at the beginning of each chapter outlining the main actions of the war during that period to put the letters into the context of the wider conflict. Notes by the editors concerning the Battle of Jutland in which Hugh Feilding, Dorothie's brother, lost his life, stand out like an oasis, and are an example of how much can be gained by the use of carefully chosen additional material. A close study of the sixteen pages of photographs is recommended before embarking on the text as they are wide-ranging and give insight into both the people and places appearing in the letters.
There can be no criticism of the letters themselves; they were written by a daughter to her mother with no thought of who might read them in years to come. Throughout, there is a strong sense that she was intent on protecting her mother from worrying about her safety, and therefore holds back from describing the horrors of war and painting too black a picture of the dangers she faced on a daily basis. That, of course, is our loss. The book will appeal to anyone with an interest in women's work during the Great War, or those who want to know more about the situation in Belgium at the time, but be prepared to set off afterwards on a further journey of your own to learn more about those missing pieces.
Reviewer: Sue Light
Purchase this book from Pen and Sword.