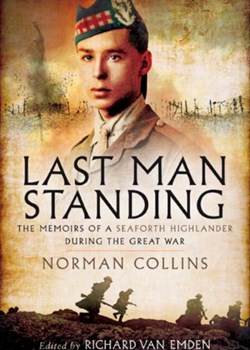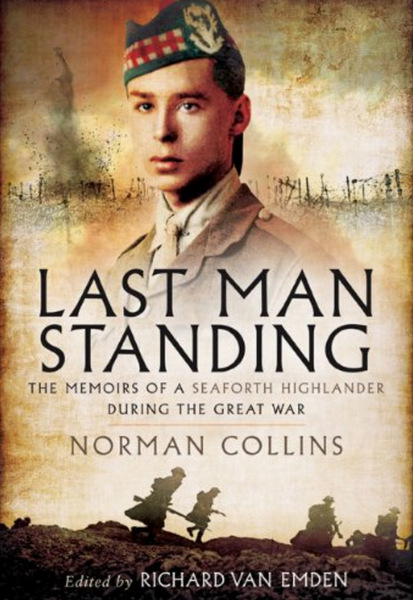 Last Man Standing: the memoirs, letters and photographs of a teenage officer, Norman Collins.
Pen and Sword Military.
224 pgs
ISBN: 9781848848658
On the day war broke out Norman Collins rushed to enlist, claiming to be twenty. The next morning he made his way to the station en route to his regiment, only to be greeted by his father and employer. Norman was only 17 and so returned to his apprenticeship in the Hartlepool drawing office of a shipbuilding company.
Nine months later and now 18, Norman enlisted with the Seaforth Highlanders and his adventures, the subject of this book, began. Many years after returning home from the war he was delighted to discover, at the age of 74,  that his brother had kept every one of his letters and postcards sent home during his period of service and all his photographs from training days to trenches. In addition, Norman recorded his memories on a series of tapes which he labelled 'Random Recollections'.
From this treasure trove of first hand descriptions, Norman's war experience has been shaped into a wonderful memoir by Richard van Emden.
From lowly private, through NCO promotions to lively young 2nd Lieutenant, Norman's good spirits and stoicism shine through. Aged just 19 he arrived on the Somme in October 1916 only to be wounded six weeks later. He returned to the front in April 1917 but was wounded for a second time just over a month later. His third wounding in July 1917, sustained when moving into new positions on the Pilckem Ridge, put him into hospital for 14 months.
Even though Norman spent only 17 weeks at the front, his story encapsulates every aspect of a soldier's life. He is a perceptive and informative writer, many of his letters running to several pages of animated descriptions. Van Emden's excellent linking passages helpfully pinpoint and give substance to Norman's experiences on the battlefield. His many references to the battalion war diary give valuable context to the actions Norman describes from his trench-eye-view. The attack on Beaumont Hamel, November 1916 and the day Norman sustained his third wound (and received a mention by name in the diary) are just two of these extremely helpful interjections.
In a letter written whilst on a Lewis gun course in June/July 1918, Norman comments "of all the officers who were out with me last year there is only one left in France." It was these, and other well-remembered pals, who were in the forefront of Norman's mind when he returned to France for the first and only time in 1989, just before his 92nd birthday. Some of the most poignant photographs in the whole book are of Norman as a very old man standing at the graves of Smith and Mclean, two close friends he had buried 73 years earlier at Mailly Wood Cemetery.
In the midst of the current welter of 'war books' it is often all too easy to overlook the common man. Norman was far from common in both his service life and civilian life but this well produced, highly personal story enhances our understanding of the true, human meaning of war whilst, conversely, enlarging the soldier's understanding of his role.
When I went to France 73 years ago there was nothing but brick dust . . . there was nothing left of the villages. Now I will be able to walk about freely on the battlefield and it will be an amazing sensation. Before I only had a rat's view, a worm's view of the French countryside.
Norman Collins, 1989
Reviewer: Tricia Platts