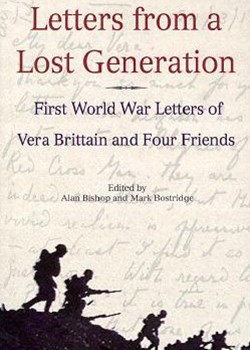 ISBN: 0-316-64664-4  Hardback 427 pp  £18.99 
Published by Little, Brown.  

In these days of emails and texts, letters are not used widely as a means of communication. During the Great War however, letters were one of the few methods of keeping in touch.
These letters give a more complete picture of Vera Brittain and the 4 men who she writes about in her most famous work, Testament of Youth. In the book she was forced to paraphrase many of the letters owing to copyright, and also able to paint a different picture of her than that portrayed in this book.
For a woman who is most well known for her pacifism, Vera Brittain comes across as patriotic and pro war in many of the earlier letters in this volume. The first parts letters are from September 1913 to the outbreak of war, mainly between her and her brother Edward and with Roland Leighton. They are mainly to do with school, and her struggles to get to Oxford University.

Parts 2 3 and 4 mainly cover her days at Somerville College and the attempts of Edward and Roland, plus their school friend Victor Richardson to gain commissions and get to the front. Vera gave up her studies at Somerville to become a VAD nurse during this period, and her letters deal with this. Also her blossoming relationship with Roland Leighton comes alive through the letters.
Given that they were unable to meet throughout their relationship more than 17 days, their love is expressed freely on paper, but when they do meet, they are awkward and reserved. Their gradual estrangement and reconciliation in October and November makes sad reading.

After Roland died of wounds on December 23rd 1915, Vera's letters deal almost exclusively with her quest to find out more information about his death. Roland is referred to by Vera, Edward and Victor almost as a deity, and the letters mainly express their love an admiration.
Geoffrey Thurlow now enters the correspondence, a friend of Edwards from the Sherwood Foresters; he rapidly becomes Vera's friend too, and also writes to Victor.

Of all the letters in the book, Geoffrey's make the most poignant reading. He was continually tortured by the fears that he was a coward, and that he should fail in battle. Many of the letters express this fear, and he expresses admiration of Edward and Victor, who he holds up as examples of brave officers.

Vera is nursing in Malta when the news of Geoffrey's death and Victor's severe wounds reach her. Her impotence at being so far away and unable to do anything is obvious. She eventually travelled home, and after Victor died of wounds, Edward's letter to her is very sad reading.

The book ends after Edward is killed in action, in June 1918. Vera Brittain was to immortalise the four men in Testament of Youth.
Although restricted by space to be able to reproduce all the letters, the editors are to be applauded for producing a book which gives a much more rounded picture of the 5 people than previously published.
Highly recommended.
Reviewer: Michelle Young