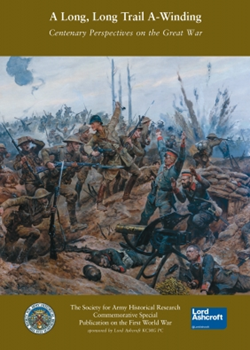 Editor  Dr Andrew Cromac
The Society of Army Historical Research, Special Publication No.18, £10.00+p&p postage and packing, 173pp, 38 ills, tables and maps.
Copies are available from the Honorary Editor, Andrew Cormack (editor@sahr.org.uk). Invoices will be sent after posting. Please do not send money with your order. PayPal facility is available for overseas orders.
The song, 'There's a Long, Long Trail' was published in London the autumn of 1914. Although many felt that the war would be over within months – the title was prescient in describing a long and arduous journey.
This seemingly disparate collection of scholarly works, delivers a strong impression of just how broad and complex a topic the Great War has become. Given the involvement of academics like Gary Sheffield, John Bourne, Mark Connelly, Peter Simkins, Jonathan Boff, Michael LoCicero and Harry Fecitt, one should not be surprised to find that the quality of each peer–reviewed contribution is of the highest order.
Six essays have been carefully chosen to reflect a variety of subjects ranging from an analysis of rapid rifle fire in 1914, disease and infection control in the Middle East, the role of padres and chaplains in East Africa, Rawlinson on the Somme, British defensive doctrine as exercised during the Kaiserschlacht and the development of land–to–air communications. All make compelling reading with superbly presented arguments supported by full referencing.
The remainder of the publication comprises three biographies and ten book reviews. Again, care has been taken to represent a broad range of topics and the content illustrates how much potential the Great War offers for original research. Lord Ashcroft sponsors the volume and it is, therefore, unsurprising – and appropriate – that five Victoria Cross winners are profiled in full. The stories of Job Drain, Frederick Luke, Douglas Reynolds, John Vaughan Campbell and Bernard William Vann are enough to excite even the most jaded of appetites.
The book extends its scope by drawing in other aspects of the Great War including the Gallipoli campaign and the post–Caporetto British intervention in Italy.
Over the past few years the WFA has made great strides in burnishing its academic credentials – and clearly the membership has a thirst for good quality writing. The centenary has spawned a plethora of books and articles whose quality is highly variable. This publication stands out. It represents the very highest standards of First World War study and is of particular interest to anyone who is contemplating turning their interest in the First World War into serious study.
Phil Curme