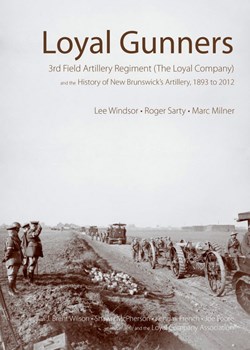 Review by Charles Messenger.
This is Volume 2 of the Loyal Company's History, the first, covering its initial hundred years being published in 1896. Originally, it was intended that this volume would cover the subsequent hundred years, but, for various reasons, it has taken over 20 years to compile. Consequently' not only are the Boer War, the two world wars and Korea included, but also more recent operations in the Balkans and Afghanistan.
For the student of the Great War there is a lengthy section of over 140 pages, however the main theme is Canadian Heavy and Siege artillery, to which the New Brunswick contributed more than any other state. The reason was that the 3rd New Brunswick Regiment, a Militia unit, was, prior to 1914, responsible for the defence of the port of St John against a naval threat.
Equipped with 4.7inch guns, its members soon came to understand the science of both indirect and counter-battery fire. While New Brunswick did provide some field artillery, it was the skill developed by its coast gunners which were soon in heavy demand. Sent to Europe by batteries over a three-year period, the Regiment also provided training in Canada and continued its coast defence responsibilities, especially in guarding against U-boats. While the Heavy batteries were equipped with the 60pdr (successor to the 4.7inch), the Siege batteries manned both 6- and 8-inch howitzers.
New Brunswick gunners were in action from Second Ypres onwards, but, until spring 1916, the Canadian heavy artillery was regarded by the BEF as 'Imperial Troops', hence, it did not necessarily support the Canadians.  Thereafter it did become part of the Canadian Corps, but for more major operations the corps often also had to relied on British guns as well.
One aspect in artillery planning does stand out. Heavy guns had two roles – counter-battery work and the destruction of wire and fortifications. Too much emphasis on the former made the attacking infantry's task that much more difficult. If the reverse was the case, the batteries themselves paid the penalty through being subjected to prolonged German fire.
As far as the 1914-18 section goes, Loyal Gunners is not just an intimate account of a distinguished element of Canada's armed forces. It provides fascinating insights into how heavy artillery really operated on the Western Front and thus deserves a much wider audience than merely serving and ex-members of the Loyal Company. It is very well written and the maps are superb and very informative.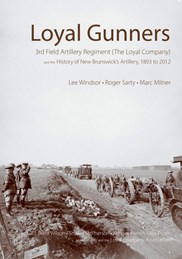 Loyal Gunners:  3rd Field Artillery Regiment (The Loyal Company) and the History of New Brunswick's Artillery, 1893 to 2012 by Lee Windsor, Roger Sarty and Marc Milner  
Wilfrid Laurier University Press, Waterloo, Ontario 473 + xviii pp, hardback, ills throughout, index, notes £46.50 (Amazon)
ISBN 978-1-77112-237-5