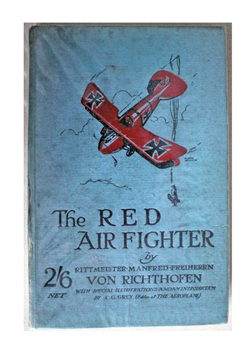 Manfred Von Richthofen. The Red Air Fighter ISBN 1 85367 079 0 
199 pp.
Illustrated. Casebound. £14.95. 
First Published in Germany in 1917 
Greenhill Books. 
New 1990 edition of original 1918 translation.
ISBN 1 85367 079 0. 
[This review first appeared in the Spring 1991 edition of Stand To! No.31. The entire archive is available to view by members in the Digital Archive].
The first book in this, the 'Vintage Aviation Library' series, was published in October 1984. The Red Air Fighter is number 25 and Lionel Leventhal of Greenhill Books is to be complimented on maintaining such a high standard and for providing us with titles of scarce vintage aviation works which most of us would otherwise be unable to add to our libraries. 
At a time when some other series look like being discontinued due to lack of support, it says a lot for Lionel's skill in having selected aviation as the subject and for including titles like this one. Do I detect that vintage aviation enthusiasts are better book-buyers than the generality of Great War enthusiasts! In this new edition of Von Richthofen's autobiography which was first published in Germany in 1917 and in English in the following year, additional material in the form of a victory list and a most informative introduction by Norman Franks and twenty-five excellent photographs are added. There is a most detailed appendix giving much information and comments on Richthofen's eighty victory claims, and notes on the original text by N. Hauprich.
Review by Bob Wyatt