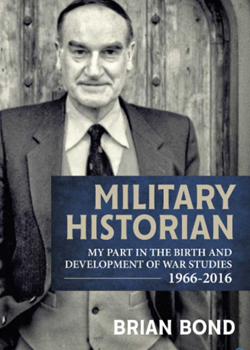 By Brian Bond
Helion, £19.95, 152pp, hb, ills.
ISBN: 978–191–239–040–3 
Brian Bond is one of the most significant British military historians of the last 50 years. Specialising in the period 1914 to 1945, he has a string of important books to his credit: Liddell Hart – A Study of his Military Thought, (1972); British Military Policy between the Wars, (1980) and Survivors of a Kind: Memoirs of the Western Front (2008, reissued in 2018) among them. However, his influence on British military history goes far beyond his publications. He was President of the British Commission for Military History for many years and has often spoken at WFA branches. From 1966 to 2001 he taught generations of students at the War Studies Department at King's College London. Especially important was his supervision of PhD students, some of whom went on to become scholars in their own right. These include such major First World War scholars as David French, Ian Beckett and Robert Foley. I need to declare an interest: Brian was also my PhD supervisor and has been one of the seminal influences on my career.
Professor Bond's memoirs, Military Historian, give engaging insights into his significant role in the professionalisation of the discipline, not least the development of the history of the First World War. Bond is clear about his debts to Basil Liddell Hart, but even from an early stage was not afraid to challenge his mentor's ideas. It is something of an irony that this one–time protégé became one of the principal revisionist historians who have largely dismantled Liddell Hart's version of the British Army in the First World War. The detail in this entertaining and informative book is invaluable to anyone who seeks to understand British military history over the last few decades; although I fear Professor Bond is less than fair to himself on occasions. The penultimate chapter is downbeat, but Brian Bond's place as a major historian of the two world wars is secure; what is more, in retirement he continues to be admirably productive.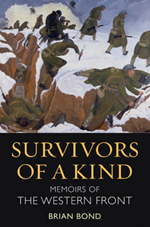 Survivors of a Kind: Memoirs of the Western Front by Brian Bond
Helion, £25.00, 168pp, hb, index, notes, maps, ills.
ISBN: 978–191–239–039–7
The reissue by Helion of Survivors of a Kind is particularly welcome. I reviewed the original edition and, a decade later, it holds up extremely well as an astute study of a range of British Great War memoirists. These include well–known figures such as Robert Graves and Siegfried Sassoon, but for me the most rewarding chapters are those that cover lesser known memoirs such as that by Charles Carrington (writing as 'Charles Edmonds') A Subaltern's War, and Norman D Cliff's To Hell and Back with the Guards. Survivors of a Kind contains some of Brian Bond's best writing. In it, he combines his expertise on the British Army on the Western Front with his love of literature. It is relatively rare for a military historian rather than a literature specialist to write on this subject. Although Bond does not here go in for overt criticism of Paul Fussell's much–lauded The Great War and Modern Memory, his reading of the memoirs creates a rather different overall impression: more nuanced and, to my mind, more convincing. Survivors of a Kind is essential reading.
Gary Sheffield