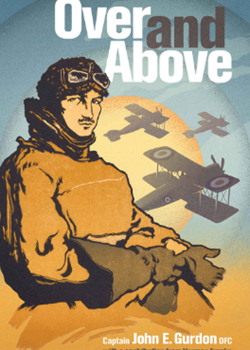 By Captain John E Gurdon DFC
Grub Street, £16.00, hb. 224pp, 12 ills.
ISBN: 978–1–911621–08–9
John Everard Gurdon, commissioned into the Suffolk Regiment, transferred to the Royal Flying Corps in May 1917. After pilot training and a period of instructing, he was posted to 22 Squadron in France in February 1918. He flew two–seat Bristol F.2B fighters with the squadron until the middle of August when concussion from a close anti–aircraft burst resulted in the squadron's doctor declaring him unfit for further flying. During his three–and–a–half months with 22 Squadron, Gurdon was credited with 28 aerial victories and had been awarded a DFC.
In 1919, after being invalided out of the RAF, Gurdon wrote Over and Above, presented as a novel which disguised him and his squadron comrades with pseudonyms. The book is well written, giving an evocative picture of the daily life of the squadron and its characters. The aerial combats fought by Warton (Gurdon) and his gunner/observers are vividly described, with an authentic ring of personal involvement to provide a resonant picture of squadron life.
Unfortunately, the writing is less successful in its dialogue. I know of no other personal memoir – or thinly–disguised autobiography – by an RFC/RNAS pilot in which conversations are related in Wodehousian public school banter. References to 'Gad! What a topping scrap' and 'Jolly old Huns' strike a false note.
Camilla Gurdon Blakeley, Gurdon's granddaughter, offers a moving and informative introduction to this edition. She tells of his troubled personal life after the war, possibly due to PTSD, and his subsequent writing career – which included translating Major Georg Paul Neumann's epic Die Deutschen Luftstreitkräfte im Weltkriege into English for Hodder and Stoughton in 1920 (and incidentally available online at https://archive.org/details/germanairforcein00gurduoft/page/n7), articles for newspapers and journals, short stories in The Modern Boy and Air Stories an latterly, travel books and guides.
An appendix by Norman Franks offers an authoritative account of 22 Squadron's history during Gurdon's period of service. For those happy to accept a blend of fact and fiction Over and Above is a good read and recommended
Alex Revell