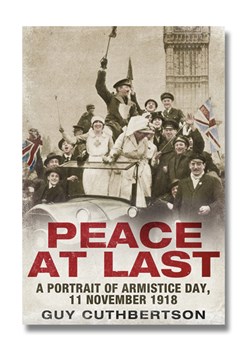 Yale University Press, £18.99
293pp, hb, ills, notes, further reading.
ISBN: 978–030–023–338–4
 'It wasn't a peace treaty, but it was peace', the author says – and that was how the news of the Armistice was received by relieved citizens and soldiers alike. The author's account covers events on 11 November 1918, from midnight to midnight, mainly, but not exclusively, in Britain with a coda examining the day's commemoration in subsequent years. Beginning with the signing of the Armistice and its terms, it employs an impressive range of material from newspapers, diaries, letters, and broadcasts to present dramatic and well told story full of contrast. 
There was joy for many, but not all.
News of deaths in the last days of the war was still being announced. Wilfred Owen's parents received their telegram on Armistice Day. The worldwide influenza pandemic observed no armistice, its toll eventually causing more deaths than the war. The reception of the news is also contrasted. In France it was noticeable for its quietness: the guns falling silent, men enjoying unimagined rest. In Britain it was greeted raucously with hastily–improvised musical instruments, dancing, shouting and bell–ringing providing a carnival atmosphere. A general sense of community showed. People surged onto the streets while thoughtful poets and writers despised what Siegfried Sassoon called 'mob patriotism'. 
In London, Agatha Christie found the crowds frightening, '… the laughing London women's 'wild orgy', which was 'almost brutal', fuelled by alcohol and capable of turning nasty.' In Whitehall, Vera Brittain found her heart sinking as she remembered her dead brother, her fiancé and friends and realised that '… everything that had hitherto made up my life had vanished with (them).' 
There were early doubts whether the 'land fit for heroes' would materialise. Fears of the danger of unemployment were recognised in a government recommendation that munitions workers were, if possible, to be kept on. 'War had been liberation', Cuthbertson says, 'giving freedom from worry, freedom from conscience. The Armistice left them in a daze.' 
While there was realisation that the war had been terrible, it had, at least, provided employment and channelled energies. Patriotism might now be replaced by Bolshevism following Russia's example. Germany, too, was already experiencing revolution. Churchill, speaking in Dundee, was interrupted by hecklers with red flags. T E Lawrence, returning from the Middle East, had anticipated joining the main theatre of the war in France and, like new recruits – particularly Americans – felt cheated of possible glory. A French girl found crying was anticipating an unwelcome arrival home of her husband from the trenches. 'C'est la guerre' her friend said sympathetically. 
And a final contrast: while Armistice Day was widely greeted with relief and rejoicing, subsequent Armistice days have emphasised loss and mourning accompanied by the two– minute silence and the theme of 'Lest we forget' from Kipling's poem – and this is what the WFA is all about, isn't it? 
Book Review by Elizabeth Balmer
This Review first appeared in Stand To! 114. 
Guy Cuthbertson is Associate Professor in English Literature at Liverpool Hope University and the British Academy's Chatterton Lecturer on Poetry in 2018. He has edited two volumes of Edward Thomas's prose and is the author of Wilfred Owen (Yale, 2014).