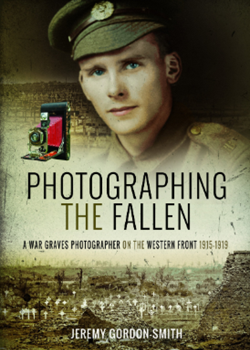 By Jeremey Gordon Smith
Pen & Sword, £25.00, 289pp, ills, bibliog, appendices, index.
ISBN: 978–147–389–365–8
Ivan Bawtree worked for Kodak as a photographer and technician before the Great War. He joined the Red Cross in 1915 as part of the newly–formed Graves Registration Unit (GRU) and went to the Ypres sector to photograph war graves for the Imperial War Graves Commission (IWGC). Bawtree and two other photographers travelled by motorcycle and sidecar, photographing graves and other subjects, until he was demobbed in October 1919. His huge collection of negatives, surviving diaries and letters, has enabled the author to produce a fascinating biography of his great–great–uncle, and of the GRU. The book offers a biography of Bawtree, an overview of his time in France and Belgium and a history of the formation of the GRU. While many entries from his diary are brief – "Go to xxx, photograph graves. Return to base, have hot bath." – this is a minor criticism.
An outline of the creation of the cemeteries includes the author's modern photographs interspersed with some of Bawtree's original shots. Following chapters describes his wartime experiences, those of family and friends and events on the Western Front after the Armistice, describing how bodies were found, exhumed, identified, and reburied.
The book concludes with the foundation of the IWGC in 1917, its activities up until 1938 and a simple guide to the northern section of the Western Front. This is linked to locations Bawtree visited, a chapter about the post–war restoration of Ypres and his life after 1920. It is copiously illustrated with original photographs reproduced in dark sepia interspersed with the author's own colour photographs, some merged to show a combined 'then and now' image. Overall this is an interesting book about a little–known aspect of the Western Front and about the people who recorded it.
Niall Ferguson