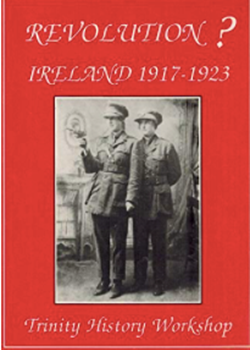 173 pp. Paperback. IR £3.95. 
Trinity History Workshop, Dublin. 
1990 ISBN 0 9511400 5 1. 
Readers will recall the earlier book in this series, the essays by undergraduates of the University, entitled: Ireland and the First World War published in 1988. This latest book breaks new ground again and the article which is likely to be of most interest to our members is: 'Getting them at last. The IRA and ex-Servicemen', by Jane Leonard. She tells how demobilised soldiers formed a major civilian target for the IRA. In 1920 and 1921, at least eighty-two were murdered; in the first four months of 1921 almost a third of the IRA's murder victims amongst civilians were ex-soldiers. 
Together with the other civilian casualties of the revolution, they occupy an uncertain place in Irish and British records. Some are recorded as casualties of the First World War while others are mistakenly identified as serving soldiers and policemen. Not many of us are aware of that. 
We are told why there was so much resentment against the Irish soldiers and there are extensive details of the individual murders. This article deserves wider distribution and acclaim. These last few words have a sad ring of familiarity: 'When James Doherty, a one-armed veteran, was found shot dead on a Limerick bridge in June 1921, the police observed with some justice that "it would seem that the ex-soldier must be with the IRA or be regarded as an enemy".
[This review by Bob Wyatt first appeared in the Winter 1990  edition of Stand To! No.30]