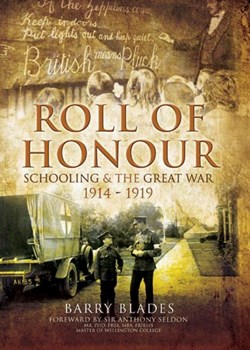 Reviewed by Barbara Taylor.
Roll of Honour marks the contribution of schools and the pupils and teachers who went off to fight the Great War. Although educational provision was class based, the book examines the pre-war education system from the perspective of all schools - not simply the public schools, about which much has been written - but those opened after the education acts of 1870 and 1902. Well written, the book is planned as the first of three. The quantity and quality of information the author has uncovered to describe the war from the perspective of those left behind at school and the immediate community is staggering.
Then, schools' emphasis was on empire, obedience and patriotism. Some raised, eye-watering amounts of money to contribute to the War Savings scheme. (The Cardiganshire War Savings Committee alone calculated that £219,000 of the £233,000 raised in the county had been contributed by schools). The book also tells of the visits of former pupils returning in uniform to imbue those still studying of army life. I well remember many years ago Mr Sells, an elderly man with whom I worked telling me a similar story about his school. Its headmaster's son had proudly joined the colours and came to address his former alma mater, which was, famously, associated with the Grimsby Chums; he was later killed.
The author's valuable statistical research shows that, proportionally more VC winners came from the teaching profession than any other. Some schools lost 40-50 per cent of those who went to war. Schooling and the Great War also demonstrates how the role of schools contributed to the massive changes in our social order that the war brought about.
I look forward to the next volume and shall certainly be inviting Dr Blades to come to speak at Thames Valley branch. Recommended.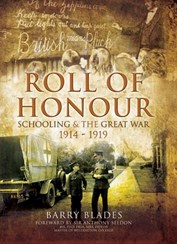 Roll of Honour: Schooling and the Great War 1914-1919 by Barry Blades, £25.
Pen and Sword £25
ISBN 9781473821057