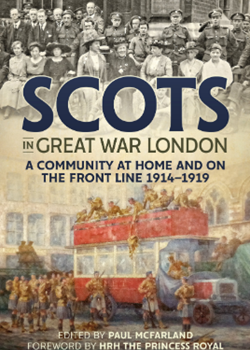 By Paul McFarland
Helion, £19.95, hb, 264pp, ills throughout (some colour), index.
ISBN: 978–191–239–078–6
In reviewing this book I confess some bias. Almost 40 years ago to the day when I wrote this, I crossed the threshold of 59, Buckingham Gate and signed on as a private in the London Scottish. I am, therefore, an open goal for this book! That said it is a fascinating volume.
During the Great War it is estimated that 50,000 were fed, sheltered, entertained – and received spiritual solace – at St Columba's Church of Scotland in Knightsbridge. It is around this relationship with London that the book is built. Twelve essays by different authors outline the relationship between Scotland and London and give a detailed insight into the close the relationship between the two and how inter–woven the relationship was.
Although Doctor Johnson's dictum about the best road a Scotsman will ever see is the road leading 'to England' may be a little hyperbolic, it has to be agreed that fields such as politics, the law and finance have been attractive to, and have benefitted from, the Scots nation and in many ways this book is a recognition and a celebration of that.
Subjects range from St Columba's itself (destroyed by the Luftwaffe in 1941 but lovingly rebuilt), through Canadian Scots in London (perhaps a little light in content), The Crown Court Church of Scotland (fascinating) and the Royal Caledonian Educational Trust (an interesting study of an educational charity for the children of servicemen), to the more 'military' topics.
Randall Nicol contributes an essay on the Scots Guards ('The King's Regulars based down south'), which is as good as one would expect from the author of the superb 'Till the Trumpet Sounds Again'. Andy Parsons, archivist and piper with the London Scottish, outlines the history of our regiment and Paul McFarland's essay on London Scottish FC (the rugby club) is particularly recommended.
Finally, an epilogue – 'The Place Whereon I Stand is Holy Ground' relates how, in 1928, 'The Chief' lay in State at St Columba's prior to his State Funeral at Westminster Abbey – before bringing the story of the church to the present day. As well–produced as anything by Helion and with a first–rate index, this is a fascinating book to dip into. And, while obviously aimed at a slightly niche audience, it is, nevertheless, deserving of a wider readership.
Steven Broomfield