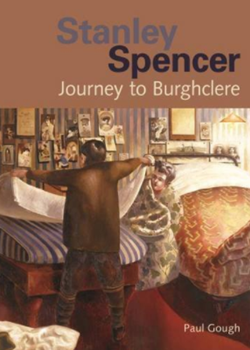 Sansom & Co., 2006,204 pages with colour and black & white illustrations. Hardback £35 (SBN 1-904537-58-8), softback £24.95 (ISBN 1-904537-46-4). 54 Western Regiment. 
Paul Gough is Dean of the Faculty of Art, Media and Design at the University of the West of England as well as being an artist, broadcaster and writer. His work is represented in collections in the Imperial War Museum, London and the Canadian War Museum, Ottawa. There have been a number of books written on Stanley Spencer, but here Paul Gough draws upon Spencer's letters, illustrations and paintings detailing his remarkable journey from family life in Cookham before the Great War to the completion of his masterpiece in the Sandham Memorial Chapel at Burghclere. 
Although Stanley was eager to represent his country at the outbreak of war, in 1915 both he and his brother Gilbert were persuaded by their mother to seek enlistment for Home Hospital Service in the Royal Army Medical Corps. Having passed his St. John's examinations, Stanley persuaded his parents to let him volunteer. He was then posted to the Beaufort Hospital in Bristol, the place he had most dreaded, a lunatic asylum-cum-hospital. There is a whole chapter on 'the hellish underworld of the Beaufort' with accompanying photographs. In August 1916 Spencer transferred to the 68th Field Ambulance in Salonika, and in October 1917 joined the 7th Bn Royal Berkshire Regiment. 
On his return to England to await demobilisation, he was given the opportunity to join artists in the War Artist Scheme. It was not until Stanley was back in Cookham in the middle of December 1918, that he took up this official commission. He was offered £200 to produce a canvas, one of many needed to line the walls of an intended grand Hall of Remembrance in London. He reconstructed the scene from memory as his Macedonian sketches had all been lost and he called his oil 'Travoys arriving with wounded at a dressing-station at Smol, Macedonia, September 1916'. 
It went on show at the Royal Academy in December 1919. Spencer's vision of an architectural scheme large enough to house his images of the war came to fruition under the patronage of Louis and Mary Behrend. This was to be a memorial to Mary Behrend's brother, Lt Henry Willoughby Sandham, who died in 1919. Spencer thought of the building as his 'Holy Box'. It was eventually to be called the Sandham Memorial at Burghclere Chapel in Hampshire, housing Spencer's vividly monumental paintings which were executed between 1927 and 1932. The Chapel building was completed in 1932. 
This book contains excellent black and white and colour reproductions of Stanley Spencer's art, together with a wide range of photographs based on his Great War experiences. Paul Gough's fascination with Spencer's army career and his time spent at the Beaufort Hospital in Bristol admirably fills in several 'gaps' in the previous documentation of Spencer's life and work. Instead of seeing the Chapel as just part of Spencer's life, Paul has tried to set it within the context of the commemorative period of the Great War. The Chapel paintings are looked at in great depth and are grouped together towards the end of the book. 
Review by David Cohen
[This review first appeared in Stand To1 no. 79 April 2007. Members of The Western Front Association receive three issues of this and our sister publication Bulletin each year. The entire Stand To! Archive of over 115 editions, is available online via your Member Login.]