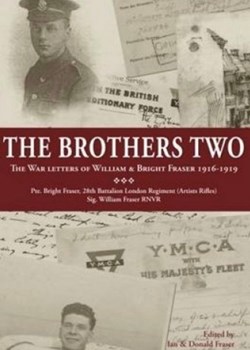 Reviewed by Phil Curme.
The letters of Private Bright Fraser, Artists Rifles, and his brother Signalman William Fraser, RNVR, are very lightly edited. The accompanying text takes the form of explanatory notes.
Many of the letters are complemented by finely drawn sketches and, modern day photographs give a 'then and now' perspective of places. Bright Fraser was clearly a survivor, having declined opportunities for promotion to retain some control over his destiny – like many of his contemporaries he did not serve directly in the front line and much of the content of his diaries concern the seemingly mundane (albeit authentic and entertaining). William' Fraser's letters cover his naval training in the latter part of 1918. They reveal a young man with a sense of humour and a zest for life.
Private Bright Fraser ended his war in captivity having spent most of his service life as a cook behind the lines. I think he would have agreed with Falstaff in Shakespeare's Henry IV Part I when he says 'honour is a mere escutcheon'!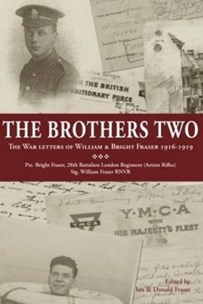 The Brothers Two: The War Letters of William & Bright Fraser 1916-1919 edited by Ian and Donald Fraser
£14.99. – Amazon,
Reveille Press, 260 pp, 110 photos,
ISBN 978-1-908336-49-1