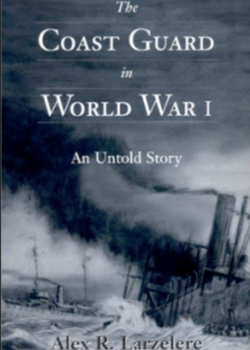 [This review first appeared in Stand To!  No. 73 April 2005]
Naval Institute Press, Maryland,2003,326pp, photos, appendices.
No price given in 2005. (2021 New £32, used prices from £10)
ISBN 1 55750 476 8
The title of this book is truly appropriate in that the story has been 'untold' until now. 
The book is thorough and outlines what the service performed during the War and why. It is suitable both for historians and the general reader, there are details of the role of the Coast Guards who were formed in 1915 to 'constitute a part of the military forces of the United States', being transferred to the Navy in 1917. During WWI many of the Coast Guards were assigned to Navy ships (cruisers, gunboats, minelayers etc) and Stations and became an integral part of the US Navy. 
Some of the men commanded naval ships, others Naval Air Stations both in America and France, cruising cutters patrolled Gibraltar providing convoy escort. One of these, USS Tampa, was torpedoed in the Bristol Channel by U-91 on 26 September 1918 after completing one such escort duty. All one hundred hands were lost, the Coast Guard thereby suffering the highest percentage of losses of any of the US armed forces in the Great War. 49 of the Coast Guard personnel were awarded the Navy Cross, the second highest combat award to the Navy.
Although the authorities at the time felt that the Coast Guard should become a part of the Navy it reverted to its independence under the Treasury from August 1919. 
The book fills a void in the history of naval warfare in the Great War. 
Review by RADM Norman C. Venzke