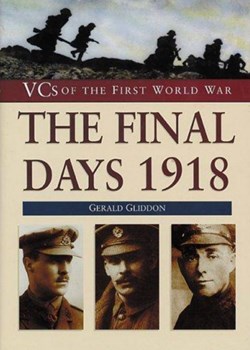 Book review by Anne Clayton.
The Final Days 1918 gives details of fifty-six VC winners who gained their awards during the six weeks prior to the Armistice. The last VC before the Armistice was awarded to A / Major B.M.Cloutman for his bravery during the crossing of the River Sambre on 6 November. Cloutman was with 59th Field Company, Royal Engineers.The details and illustrations fully attain the standard we have come to expect. Arranged chronologically and excellently indexed, the individual entries are easy to navigate, and the book must form a part of an Victoria Cross enthusiast's library.
[This review first appeared in the journal of The Western Front Association Stand To! Issue 61 April 2001. This and other copies of Stand To! are available to read online to members by signing in using their Member Login]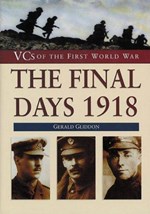 The Final Days 1918
Gerald Gliddon
(Sutton 2000) £19.99.
ISBN 0 7509 2485 3