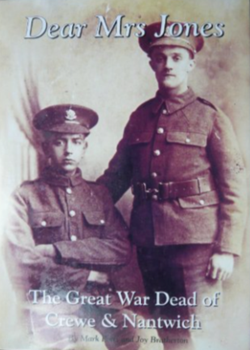 Softback, 219pp, 2001. 
Copies priced £10 may be obtained from Joy Bratherton.
[Available in 2021 for £7.25 from Abebooks]
This privately published book is another very good example of the valuable work being done in the field of local history by Great War enthusiasts. The title refers to the typical letter sent to bereaved relatives after a serviceman's death on active duty; the authors have identified some 1300 men who made the ultimate sacrifice, all having some connection with the two towns of Crewe and Nantwich.
Each year of the war is treated chronologically, with a scene setting description of the important actions in which local men died - this will be invaluable for non-specialists who are perhaps researching an individual's career for family history purposes.
Maps and many excellent photographs illustrate the narrative, lists of names on the various war memorials are given, and date, place of death and burial are stated in every case. A most useful index concludes this admirable contribution to war memorial studies.
Review by Ann Clayton.
[This review appeared in the January 2002 edition of Stand To! No. 63].