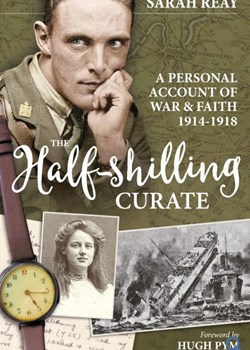 Foreword by Hugh Pym
Helion & Co., £25.00, 194pp, many ills, 2 maps, short biographies of war-time colleagues, tributes, bibliog., index
ISBN: 978-191-109-646-7
Sarah Reay's story of her grandfather, the Reverend Herbert Butler Cowl MC, is well researched and includes many excerpts from his letters. Born into a staunchly Wesleyan family, and following his father into the ministry, Cowl was no sooner ordained than war broke out and was commissioned as a captain into the 13th Battalion, Durham Light Infantry. Initially, he found the transition to ministry in the army difficult. Although his sermons were occasionally jeered at by unwilling participants in compulsory Church Parades, his faith sustained him. In Flanders, he refused to live safely behind the lines, instead joining the men in the trenches.
While with the 71st Field Ambulance at Gris Pot, he was wounded in the jaw, a piece of shrapnel lodging in his throat. Following an operation to remove it, he was stretchered aboard the hospital ship Anglia for further treatment in England. When the ship was hit by a mine Cowl, although himself washed out of his bed and despite having sustained further wounds, helped others escape. Cowl's actions earned the award of the Military Cross. Recovery followed and the repair of his throat with a silver tube endowed him with a remarkably mellifluous voice.
Post-war Cowl returned to civilian ministry. In 1939, he was in Action and soon to suffer the Blitz with his parishioners. His wartime experiences did not turn him into the pacifism many Methodists believed in; indeed, he described himself as an 'ultra-non-pacifist', and the author's title refers to Cowl's own self-deprecating (and clearly inaccurate!) description of himself as 'not the full shilling'.
Review by Elizabeth Balmer
[This review appeared in Stand To! No. 109 alongside 20+ other reviews and articles. Members of the WFA receive the magazine Stand To! three times a year as part of their membership].
Available from Helion and Co. 
You can also enjoy an interview with the author Sarah Reay in the WFA Podcast, Mentioned in Dispatches, Episode 43.