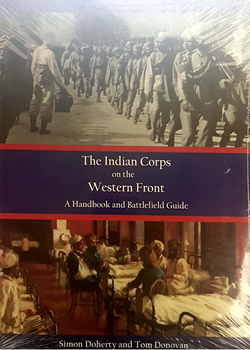 Richly illustrated throughout, with clear maps and explanatory plans, many contemporary black and white photographs and a wealth of recent photographs on the ground, as well as colour illustrations, The Indian Corps on the Western Front makes an excellent companion to a trip along that stretch of the Western Front taken over by the Indian Army in October 1914.
The Indian Corps on the Western Front is large format, and 'coffee table' in approach without the weight of a hardback publication. 
The experience of the Indian Army up to the 'European War' and its role supporting the BEF is explained and the arguments for sending it to France given. The controversy over the performance of the Army is addressed, and the classic stories of Sikh men and Gurkhas who received the Victoria Cross are told and illustrated. The major battles where the Indian Army fought on the Western Front are explored: First Ypres, Neuve Chapelle, Festubert, Givenchy, Second Ypres, Aubers Ridge and Loos. The cemeteries are visited. We also learn how and where the Indian wounded were treated in England, with particular emphasis on Brighton.