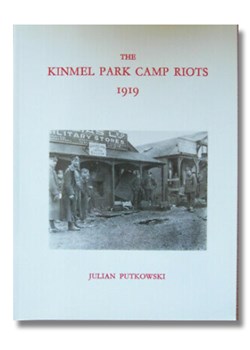 55pp. Illustrated. Card covers. 
Flintshire Historical Society. £2.50. 
£3.50 by post from Clwyd County Record Office
The Old Rectory, Hawarden, Deeside, Clwyd CH5 3NR. 
ISBN 0 9512776 18.
[This review first appeared in the Winter 1989 edition of Stand To! No.27]
In early 1919, discontent among Canadian soldiers awaiting demobilisation in Britain resulted in a series of serious disturbances. In March, Kinmel Park Camp in Wales was the scene of a riot which lasted some eighteen hours and resulted in shops and canteens being looted, red flags being unfurled and men being killed and wounded. 
Julian Putkowski has produced a meticulously researched account of these riots, based on extensive labour in British and Canadian archives. He has also made good use of contemporary newspapers, including such obscure publications as the splendidly named Moose Jaw Evening Times. 
Mr Putkowski argues that, red flags notwithstanding, the riots had little to do with revolutionary activity and everything to do with fear of post-war unemployment. The men at Kinmel Park believed that the few jobs likely to be available for former soldiers in Canada—which was experiencing economic recession—would be snapped up by those who were fortunate enough to be demobilised at an early stage. This fear of being 'left on the shelf' exacerbated natural resentment which was caused by a demobilisation policy which was widely considered to be unfair. 
Mr Putkowski argues, convincingly, that this riot, and others involving British Empire troops, were examples of peacetime labour practices resurfacing in a military context. Faced with poor conditions in the camp, economic grievances and apparently unsympathetic 'bosses', the soldiers took 'direct action'.
Kinmel Park Camp Riots is a significant addition to the literature on riots and mutinies in the era of the Great War. I have no hesitation in recommending it and I look forward to Mr Putkowski producing a full-length study of the topic.
Reviewed by G. D. Sheffield