Putnam, 1924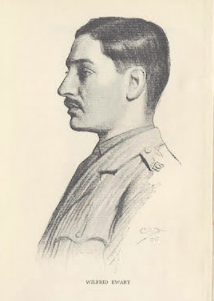 Wilfrid Ewart, journalist and author, served in the Scots Guards 1915-1919. A prolific writer, he kept a notebook with him at all times. Conveniently (for us) he was injured badly enough to return him home twice during the war during which time he wrote numerous accounts of his experiences 'under a different name every time'. (Graham, 1924, p.14) For example, a line from the Spectator on Ypres 'The very earth itself, so maimed and scarred, spoke of war's eternal mystery, of God's anger and tribulation, of man's agony and bloody sweat'.  (Graham, 1924 p.43). He also wrote for Country Life, The Sunday Times and National Review. 
Ewart is best known for his fictionalise account the war 'Way of Revelation' which used the same notes and articles. Ewart was killed on New Year's Eve 1922 on a visit to Mexico City when a shot fired into the air to celebrate the New Year hit him in the head. He was travelling with friend and fellow writer Stephen Graham who subsequently assembled a collection of Ewart's work in 'The Life and Last Words of Wilfrid Ewart'. 
His life before the war is simply described as 'one round of pleasure'. (Graham, 1924 p.10) Ewart was upper middle class, wealthy and one of those young men who spent the London Season chasing around Piccadilly, Mayfair and Belgravia attending balls, eating at the best restaurants, taking off for weekend parties of tennis and punting and making the acquaintance of girls, who were "so conscious of being pretty, the boys so ardent, so keen on winning girls, so anxious to make a good impression."(Graham, 1924, p.60) 
The authenticity of Ewart is supported by reading both 'Way of Revelation' and 'The Life and Last Words …' as there is so much common ground between them, the context is the same, even if names have been changed and various love stories thrown in. Ewart has been 'unhappy in love', something he milked in his fiction. 'Stricken love and hideous grief we're only behind the curtains of our life as a nation', wrote Graham (1924, p.30) 
There is plenty to enjoy here; Ewart had a way with words ''Death had laid his icy hand in the world. Some of the living felt it and shivered', quoted Graham, (1924 p.32) 
There's a remarkable description of men fratenising at Christmas, not that famous event of 1914, but the following year "which found soldiers of both sides leaping back and forth over a shallow stream that divided them as a friendly game, like schoolboys on a common playground." (Graham, 1924 p36-36) 
Like so many survivors of the war, the milestones are the many deaths of friends he records, which included his younger sister's husband. In 1919 brother and sister undertook a pilgrimage in a quest to locate his grave but failed to do so. Ewart described the scarred landscape thus, 'Death ruled there in silence, and Nature seemed powerless to forgive mankind. The smell of the war was supreme: the smell of the dead and of decay and corrosion.' (Graham, 1924 p.97)
'The Life and Last Words of Wilfrid Ewart' makes a valuable companion to 'Way of Revelation' completed by also reading Ewart's 'The Scots Guards' 1915-1919' which Graham assembled from Ewart's notes after his death. 
Review by Jonathan Vernon, Digital Editor.