Book review by Paul Guthrie.
This welcome reprint of a 1938 classic has a new introduction by the most eminent American historian of the Great War, Kentuckian Edward M. Coffman (see interview in Stand-To! 56). The story of the so-called 'Lost Battalion' was the best- known US battle of the war, its only rival being the Marines' action at Belleau Wood.
On 2 October 1918 New York lawyer Charles Whittlesey led men from two battalions of the 308th Infantry Regiment, 77th Division into the rugged Argonne Forest near Charlevaux Mill. The Americans advanced to their goal but were surrounded and pinned down for five days. All attempts to relieve them by ground and air failed, and an American barrage killed eighty. A captured soldier was sent back by the Germans with a note demanding surrender. Whittlesey's response was to remove the white panels used to mark their position for planes least they be taken for white flags of surrender. Their last homing pigeon was sent for help but she was shot and died on arrival. She now rests in honour at the Smithsonian.
Whittlesey and two other officers were awarded the Congressional Medals of Honor but there was some criticism of him for 'wasting lives'. Less than 200 out of the 554 men survived the ordeal.
In 1921 Whittlesey jumped from a Havana-bound ship in a well-planned suicide.
Visitors to the Charlevaux Valley look down from the road at their position, on a hill so steep that it cannot be climbed without using the hands. As Coffin says after visiting the site: 'there is an aura about places where terrible things happened. On that overcast, misty day in the deep woods of the Argonne, it was as strong as I have experienced'.
[This review first appeared in the journal of The Western Front Association Stand To! Issue 60 January 2001. This and other copies of Stand To! are available to read online to members by signing in using their Member Login]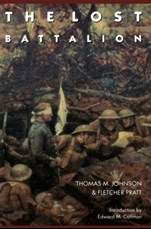 The Lost Battalion
Thomas M Jackson and Fletcher Prarr
University of Nebraska Press, 2000. 
348pp, ills, maps, index. $17.95 softback.
ISBN 0 8032 7613 3.