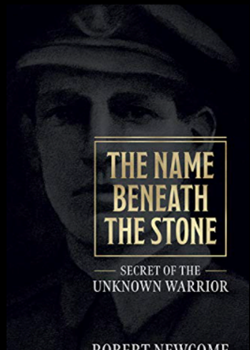 Universe Press, 2019, £10.99, pb. Ills. 350pp. 
ISBN: 9781912690558
In November, 1920, the body of an unknown soldier was plucked from the battlefields of the First World War and buried amidst great solemnity in Westminster Abbey – a powerful symbol of those who lost their life in the catastrophic conflict. The importance of this body's identity – or its anonymity – is the subject of the story which is told across three time periods and grips the reader from beginning to end. 
The real–life Reverend David Railton and his idea for a grave with which every bereaved family could identify begins the story, which then moves on to 2011 when the fictional Sarah Harding, whose father is dying, finds the diaries of her supposed grandfather Peter Harding. Harding, was an officer given the grim duty of exhuming a body from the battlefields to be buried four days later at the ceremony in the Abbey, which he attends, is life–changing and well described. 
Sarah seeks the help of James Marchant, a professional historian, who discovers a code in the diaries that leads them to the tale of Daniel Dawkins, the outstanding hero of this story, a courageous and charismatic private in 5 platoon of a fictional Berkshire regiment, whose actions we follow through the battles at Messines and Ypres in 1917. 
The members of his platoon (accompanied by their dog) are well drawn and differentiated, including one suffering from shell–shock. They are led by the young Lt. Latham, newly trained, willing to be guided by the more experienced Daniel and balancing morality in the extreme circumstances of war with concern for his men. There are good officers and bad, a sergeant who is a bit of both depicted with a real depth of character. 
The plot also covers both the development of James's and Sarah's relationship and Peter Harding's involvement with Daniel's fiancée. The three timescales and parts of the story interlock convincingly. 
The author shows, too, the attitudes of families in different social classes at home, and the changes in them caused by the war. He depicts courage and cowardice, injustice and restitution, mixing fictional and real characters – it was particularly pleasing to see a reference to Julian Grenfell. 
The photographs are well placed in the story, round the Cenotaph and Abbey in 1920, and the desolation at Passchendaele in 1917. While each part is engrossing, I found myself racing to get back to 5 platoon and Daniel Dawkins. The final battle scene, at Passchendaele, was moving. So too was Daniel's comeuppance of a weak and vindictive major. Finally – there is a really surprising and clever twist to the plot on the very last page – and involving a dog! 
Review by Elizabeth Balmer
[This review first appeared in the October 2020 edition of Stand To! No.119. Members receive Stand To! three times a year, as well as additional Specials and three editions of our member magazine Bulletin each year].