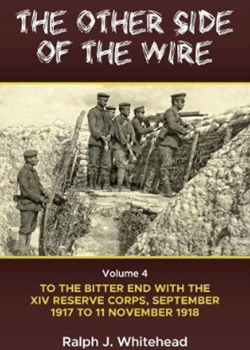 By Ralph J Whitehead
Helion, £49.50, 563pp, hb, 167 b/w photos, 4 b/w ills, 50 b/w maps.
ISBN: 978–1911512479
Volume 3 of The Other Side of the Wire is an astounding labour of love. Having reviewed both volumes 1 and 2 of Ralph Whitehead's previous books on the German XIV Reserve Corps, the quality of the research, the detail, the quantity of illustrations and number of maps in volume three, came as no surprise.
On completing the text for volume 3, having written no less than 500,000 words – 'far too large for a single volume' Whitehead decided to split the content into two books. Like other readers with a serious interest in events on 'the other side of the wire' I look forward to the final volume of this unique work – which will complete the story of XIV Reserve Corps from 1914 until 1918 – with some impatience.
Each volume has employed published and unpublished material by men who served with XIV Corps; archival material, regimental histories, articles and previously unpublished photographs. The task of accumulating and translating source material alone represents a huge effort.
It is impossible for any reviewer to do justice to this work in a brief piece – one can only state that it covers the actions of the corps on the Somme from 2 July 1917 to August 1917 since any detailed exposition is impossible to reflect in the space allowed for Stand To! reviews. The reader alone must discover the unique effort and skill of the author and the ground he has covered in research and authorship. This is a magnificent addition to our knowledge of one division of the German Army at war.
DJF