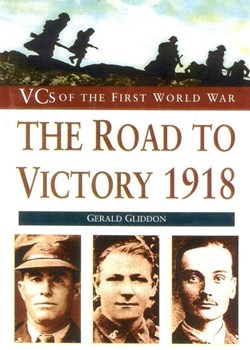 Book review by Anne Clayton.
The Road to Victory 1918 covers the fifty days between 8 August and 26 September when the Allied advance gathered momentum, from the first efforts east of Amiens, southwards to Peronne and then swinging to the north-east. Accounts are given of the sixty-four Victoria Crosses won during this time, including Scottish-born Lt Col William Clark-Kennedy commanding the Canadian 24th Bn Victoria Rifles in the Arras sector, and New Zealander Sgt John Grant, in action with the 1st Bn Wellington Regiment near Bapaume. The details and illustrations fully attain the standard we have come to expect. Arranged chronologically and excellently indexed, the individual entries are easy to navigate, and the book must form a part of an Victoria Cross enthusiast's library.
[This review first appeared in the journal of The Western Front Association Stand To! Issue 61 April 2001. This and other copies of Stand To! are available to read online to members by signing in using their Member Login]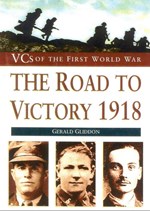 The Road to Victory 1918
Gerald Gliddon  
(Sutton 2000)
£19.99.
ISBN 0 7509 2083 1