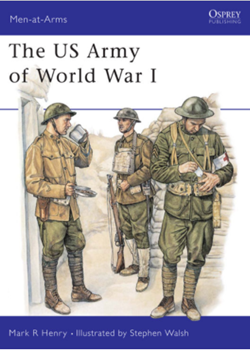 Illustrated by Stephen Walsh, Osprey, Oxford, 2003, $14.95. Order directly from Osprey at www.ospreypublishing.com. 48pp, photos, colour illustrations. ISBN 1-84176- 486-8.
Newest in a series from Osprey entitled Men at Arms, this volume includes summary information on the American Expeditionary Forces (AEF) of the Great War including their composition, organisation, uniforms, personal equipment and web gear, vehicles, and weapons. Lavishly illustrated with colour drawings and contemporary photos of officers and men in uniform, this book also contains suggestions for further reading. The only thing missing is maps.
One of a series on military uniforms and equipment from many eras including volumes on the BEF of 1914-1918, the British Indian Army from 1914 to 1947 and the WWI-era Russian Army, this is a useful and inexpensive reference work. The Osprey website has a full listing of titles available.
Review by Len Shurtleff 

[This review first appeared in our journal Stand To! No.70 April 2004. Members receive Stand To! three times a year along with three copies of our in-house magazine Bulletin. The entire archive of Stand To! is available to members via their Member Login].