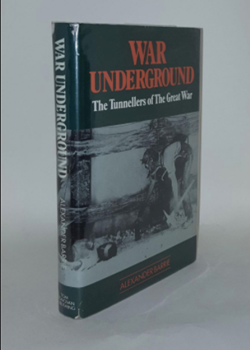 Spellmount Ltd, Staplehurst, £14.99, soft back, 272pp, 22ills, 5maps, bibliography, ISBN 1 86227 081 3. 
Amongst other new paperbacks is Spellmount's edition of Alexander Barrie's somewhat elderly War Underground. Although first published in 1962 and republished as a hardback in 2000, as far as I know it remains the fullest account on the subject available.
The cover quotes an unnamed, and undated, source as saying that the book is 'the definitive history of tunnelling and mining operations on the Western Front' adding that it is 'truly fascinating and little appreciated aspect of that terrible conflict that only now is being properly appreciated'. Although the diggers' work is probably now rather better understood than in 1962, War Underground seems to remain definitive; its author located no less than 68 tunnellers and interviewed 27 of them face to face for the book.
Much recent work has been undertaken to examine remaining tunnels and mines on the recent Western Front - in one, on Vimy Ridge, Nigel Cave found himself face to face with an unwelcomely large amount of high explosive! Whether this work, and newer research, will trigger a new evaluation of the work of the hewers of chalk and clay remains to be seen.
As the success of Birdsong - a book recently described by one military historian as 'Britisher with extra dirty bits' - has proved, tunnelling does evoke a particular fascination. After all, who would have believed that an over-egged novel, with new added eroticism, and set underground in the Great War 1914, could have become a best seller?
A new edition of Barrie's factual corrective on the topic is therefore particularly welcome, if a little costly at £14.95. But then good copies of Barrie's 1962 edition are now very much more pricey. 
Review by David Filsell
[This review was first published in the September 2004 edition of Stand To! The journal of The Western Front Association. Members receive three issue a year, in addition to three issues each year of our sister magazine Bulletin].