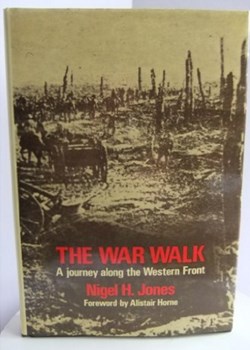 228 pp., casebound. £11.50 Robert Hale.
"And I felt a great longing to be liberated from these few hundred yards of ant-like activity-to travel all the way along the western front-to learn through my eyes and with my heart the organism of this monstrous drama which my mind had not the power to envision as a whole."
Thus wrote Siegfried Sassoon.
Nigel Jones has taken the opportunity to travel on foot along substantial portions of the Western Front and in so doing has discovered much of the "monstrous drama" that was played out along its length some seventy years ago. His book is a successful amalgam of his own foot-slogging memories and impressions of the battlefield today and those of veterans of the battles that he describes in some detail. The result makes the perfect companion for anyone visiting the Western Front, whether on foot, by car, or by WFA coach.
[This review appeared in Issue no.9 of Stand To! With membership topping 1,500 and Stand To! increased from 16 to 24 pages there were more articles, veterans remembering, book reviews and reports. Copies of Stand To! are available online for members to read].