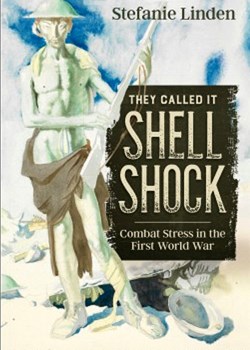 Helion, £25.00 (£22.00 direct from publishers)
Hardback, 269pp, heavily illustrated, bibliog, indices.
ISBN: 978–191–109–635–1
Dr Stefanie Linden
Review by David Filsell
I own a number of works on shell shock written between 1918 and 1945 by members of the medical profession, as well as more recent overviews of the topic, yet, as far as I am aware, They Called it Shell Shock is the first 'modern' book on the subject to be written by a psychiatrist. Author, Dr Stefanie Linden, is not only a psychiatrist, but also a mental health researcher and an historian of psychiatry.
In her approach she seems to have a keen eye for a wider, war literate, audience. This is not simply a book for medical professionals. Whilst inevitably its wide ranging, fascinating, content is written with commendable clarity, her necessary use of appropriate terminology poses interesting challenges to the medically illiterate reviewer or tyro confronting the minefield of any writing on shell shock.
What becomes clear here is that, from its very first use, both the term shell shock and the treatment of all war neurosis swiftly became a maelstrom of medical opinion, of diagnoses, mental, and related physical disabilities and of available treatments. Debate was international, British doctors being informed by publications in 'trade journals' written by British colleagues and translations of those in foreign, primarily German, medical journals.
Although physical medicine, including brain surgery, had made tremendous strides by 1914, treatment of mental illness was clearly in its infancy; a turmoil of international opinion and treatment. Not least neurasthenia, one of the diagnoses used to describe the effects of shock, anxiety and fear experienced early in the war and its physical consequences, was then one broadly regarded as predominantly a weakness of women. Whilst certainly not solely deployed as a diagnosis for the officered classes damaged by war, as is frequently suggested, it was an ailment considered to be influenced by class and inheritance and affectation. Men, it was judged, were stronger.
As Professor Sir Simon Wessely notes in a valuable introduction, shell shock is a term which lives on despite its relatively brief period of deployment in diagnosis during the war and that its use now is 'sometimes' linked to the belief that '... back then psychological trauma was misunderstood, poorly recognised and that the person afflicted was more likely to be executed than treated.'
The author underlines this statement by impressive research to show the realities, not least her extensive use of the medical records of soldiers treated for trauma at the National Hospital for the Paralysed and Epileptic, and now stored in the archives of The National Hospital for Neurology and Neurosurgery archive. Here the surviving paper records indicate the length and breadth of treatments and the understanding which doctors developed, their many successes – and failures – in restoring soldiers' mental and physical ailments in whole or in part. These, uniquely, she balances against the broadly similar experiences of German doctors and soldiers.
Certainly the length, breadth and depth of the author's work are impressive; the illustrations are well and aptly chosen. In her concluding chapter she asks, 'Was shell shock simply another term for PTSD?' and answers 'It is not that straight forward'. It never was: it is still not. They Called it Shell Shock is the most valuable treatment of the subject that I have yet read and a book I recommend highly


This review first appeared in the WFA magazine Stand To! October 2017 No. 110. Members receive Stand To! three times a year. For benefits of membership go and join go > HERE. 
Stefanie Linden was interviewed by Tom Thorpe for the WFA Podcast series 'Mentioned in Dispatches' Episode 34. Listen to Stefanie Linden talking about here book > HERE. 
On 15 December, Hertfordshire & Bedfordshire branch are hosting a talk given by Taylor Downing called 'Breakdown: The Crisis of Shell Shock on the Somme'. For details of this event go > HERE.