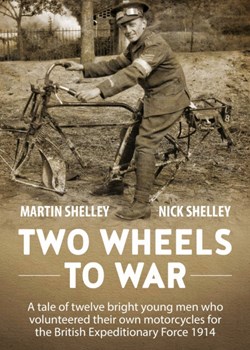 My only experience of motor-cycling is as pillion passenger on a trip to Ypres 20 years ago. Since, as a mode of travel, it was uncomfortable, boring and slightly worrying, I was bemused when I received a book about motorcyclists to review. Nothing daunted, I sat down and set to.
I need not have worried. In essence, this is a reprint of Adventures of a Despatch Rider, by Captain WHL Watson published in 1915. Initially published in instalments in Blackwood's Magazine, a book was commissioned immediately. Sadly, it fell foul of the censor and an expurgated edition appeared in 1917. The present editors, vintage motorcycle enthusiasts, have reproduced the original, 1915, version, but with the differences in the 1917 edition noted.
Over half the book is taken up with biographies of the twelve young men at the centre of the story from letters, diary entries and magazine articles. A database of two-thirds of the 400 men who served as motorcyclists with the BEF in 1914 is included and, finally, an extremely interesting (even to the non-petrol head) illustration of bikes and equipment. Photographs – the majority previously unseen – and maps illustrate the text.
Two Wheels to War is a memoir is of its time. Watson was an old Harrovian, a Balliol man, who studied in Germany between school and University. Of exceptional height (6' 6"), he left college to enlist in the London Scottish. Side-tracked by an advert for motorcyclists to enlist, he signed on. Having bought his own bike, he became a Corporal in the Royal Engineers (5th Division Signals). Via Dublin, he arrived in France on 17th August.
The narrative reads like a John Buchan adventure - with the British ability to see war at its worst as nothing more than an interlude between a decent bed and a dry Martini (Which '… could be obtained in Ypres up to the evening of April 22 [1915]'). Characters are known by nicknames: 'The Fat Boy', 'Huggie', 'Spuggy' and 'The Flapper' all feature: 'It was at La Basseé too that we had our second casualty … 'Moulders' came in one evening full of triumph. A bullet had just grazed his leg and the Government was compelled to provide him with a new puttee. We were jealous, and he was proud'.
Even if this reads as a Boy's Own tale, it offers a fascinating insight into the confusion of the retreat from Mons Retreat and the ad hoc intelligence and communication network supporting the BEF. Backed by Helion's usual production values this is a really good book; difficult to put down. The new information collected by the editors over the six years it took to complete this labour of love is remarkable. While this is a book which I would never have considered buying, I am extremely glad I have a copy.
Watson concluded his memoir with words from General French, 'Carrying despatches and messages at all hours of the day and night … they have been conspicuously successful in maintaining an extraordinary degree of efficiency in the service of communication … No amount of difficulty or danger has ever checked the energy and ardour which has distinguished their corps throughout the operation.'
As this book shows: Sir John was quite right.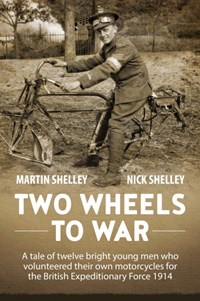 Two Wheels to War. A tale of twelve bright young men who volunteered own motorcycles for the British Expeditionary Force 1914 by Martin Shelly and Nick Martin.
Helion & Company Solihull 2017 £25.00 302pp hb, 100 ills, 8 maps.
ISBN: 978-1-911096-58-0