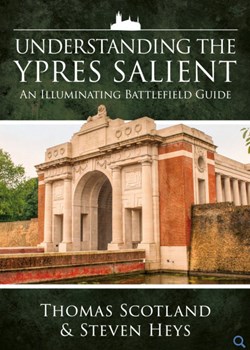 Reviewed by Stephen Broomfield.
On receiving this book my first thought was 'Oh – yet another guide to the Ypres Salient': I was perhaps a little unfair. This is a valuable guide. As might be expected, with Helion's excellent production values – all maps and photographs are in colour and very clearly-produced. It is also of a size that will easily slip into a rucksack and its format – chronological rather than geographic – ensures that sites are easily found. For example, if you are following the Second Battles of Ypres, Chapter Six deals with the period 22nd-23rd April (Graventafel Ridge), Chapter Seven 24th April – 5th May (St Julien) and so on.
This is not a 'memorial' volume - indeed, there are very few pictures of memorials or cemeteries – but a topographical guide. Alongside what to see and where to go for the best view, simple short and effective descriptions of the relevant actions are given. They are accompanied by maps (based on those in the British Official History) and photographs by the authors (both with a surgical background and from Aberdeen – and the archives of the Gordon Highlanders having been well-mined).
Excerpts, largely from published accounts, give a 'feel' for actions at specific sites, and VC awards are marked, frequently with the citation included (a shame that the subsequent death, at Cambrai, of Pte Dancox of the Worcesters isn't noted).Quibbles'?  The index could be better – particularly that of people - and better editing would have picked up small irritations such as referring to Private McIntosh, VC, as 'Sergeant' (p. 146) when his citation, quoted three lines later refers to 'Private' (And I am sure I won't be the only person tutting at the reference to 'Coldstreams' on p. 49!). Nevertheless, as a concise, easy-to-use and informative guide I can happily recommend this to the generalist visitor to Ypres it works very well. I shall certainly take it on my next visit.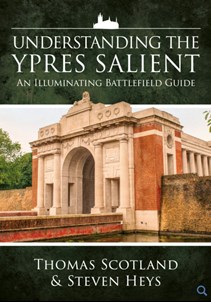 Understanding the Ypres Salient. An Illuminating Battlefield Guide by Thomas Scotland and Steven Hayes
£19.95, Helion & Company, Solihull £19.95, 291 pp, pb, colour ills and maps throughout.
ISBN: 978-1-911512-50-9
Learn more from > HELION