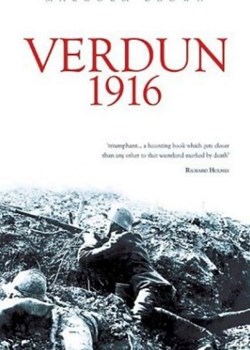 Book review by Anne Clayton.
A major article in this issue of Stand To! is by Malcolm Brown, on Verdun.
His book Verdun 1916 was first published in hardback in 1999, and now it is available in paperback.
Malcolm Brown will be known to many readers for his co-authorship of Christmas Truce and for his Imperial War Museum publications - Book of the First World War, Book of the Somme etc.
In this book, from the outset he acknowledges the importance to the subject of Verdun of Alistair Horne's 1962 book, but argues convincingly that a new interpretation is needed, as new material continues to emerge. Malcolm Brown's book includes a considerable amount of new personal testimony, much of it translated from the French and German. We thus gain new insights into individual experience in what the author calls the 'holocaust' of Verdun.
In recent years much emphasis has been deservedly placed by historians and by the media on reassessing the Battle of the Somme; but the Somme and Verdun are so closely linked, the former continuing in an effort to relieve pressure on the latter, that a parallel reassessment of the Franco-German battle of attrition taking place 150 miles away is to be welcomed. This book provides it, and from a wider perspective. Well-produced and clearly printed, with many illustrations, a comprehensive list of sources and an index, Verdun 1916 deserves to be widely read. Highly recommended.
[This review first appeared in the journal of The Western Front Association Stand To! Issue 61 April 2001. This and other copies of Stand To! are available to read online to members by signing in using their Member Login]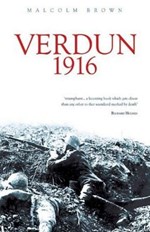 Verdun 1916
Malcolm Brown
(Tempus 2000) £14.99.
ISBN 0 7524 1789 4