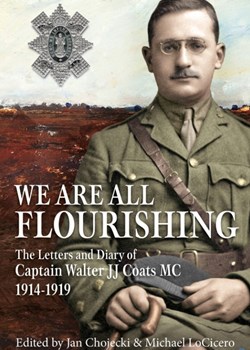 We are all Flourishing: The Letters and Diary of Captain Walter J J Coats MC 1914–1919
Helion & Co., Solihull,
£25.00, 360pp,
many ills, maps, Coats' service record, index.
Jan Chojecki and Michael LoCicero (Eds.)
ISBN: 978–191–109–639–9
Review by Elizabeth Balmer
This history of Walter Coats' service with 1/9 Highland Light Infantry (Glasgow Highlanders), is told in his own words, partly through letters home and partly through diary entries written up from his notes after the war.
His letters – sent almost daily – describing his life and duties in and out of the line, reassured his family of his safety and requesting essentials. His language, 'we are having a very cheery time of it', or 'the humour of this life increases daily' invariably meant the opposite, and described with admirable insouciance the danger (of shelling – 'I shall never get fond of it') the mud, the discomfort, and the death of friends which he faced with stoicism and courage.
Disappointments over postponement of leave, the promotion of less experienced officers, bouts of illness, are also faced robustly and glossed over.
The war diaries tell a starker tale. After initial training in Scotland, Coats arrived in France in November 1914 and fought throughout the war in some of its most perilous battles; Festubert, Neuve Chapelle, Loos, High Wood – where the Highlanders sustained over 800 casualties – Polygon Wood, Arras and Third Ypres.
For most of the war he was battalion machine–gun officer but in 1917 he joined the staff and earned an MC.
Anyone reading this very well–edited book, with its excellent footnotes, will gain a very clear idea of what fighting in a major battle was like, the day to day duties and life of a soldier and staff officer – and would also admire the postal service, which could get a loaf of bread sent from Scotland and still arrive fresh in France in a couple of days.
[This review first appeared in edition 109 of The Western Front Association magazine Stand To! Members of the WFA receive the magazine Stand To! three times a year as part of their membership].