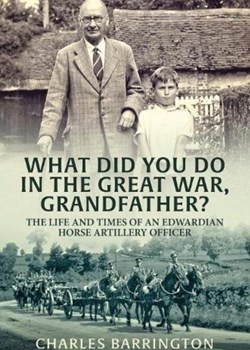 What did you do in the Great War Grandfather? The Life and Times of AN Edwardian Horse Artillery Officer.
Helion, £16.95.
187pp, 187 ills, 4 maps,
bibliog., index
ISBN 978 1 91217403 4
Charles Barrington
Author, Charles Barrington, enjoys the good fortune of being published by Helion, and, consequently, the assurance of quality production, proofing and illustration. Equally, the subject of the book, Guy Meade, was fortunate enough to be amongst the few junior officers who went to war with the BEF in 1914 and survived the war physically unscathed.
The writer's great misfortune is that in telling the story of his grandfather's war he was forced to overcome the fact that all his subject's letters home were deliberately destroyed in a 'sisterly' family dispute. Many of the most recently published memorial volumes written by family members draw heavily – even exclusively - on such correspondence. Frequently they fail to place their subject in researched context – the historical who, what, when, where and why of his war and the background to it. Consequently, they are valuable as memorials but of more limited value to those who seriously study the Great War.  
Lacking contemporary personal material, Guy Meads war has tracked his subject's through published works and surviving official records, including War Diary Entries written by Meads. We follow his role as a soldier his trail from entry in to the RMA, Woolwich, pre-war and wartime service with service with the Royal Horse Artillery, action at Mons and in the retreat, Ypres, as a Brigade Major RA, 61st Division - whose failure at Fromelles the author suggests blighted his wartime career, if only by association. Post war, Mead served in India and Egypt. His service ended after a brief service as General Officer Commanding and with his retirement General Officer Commanding 1st Division Aldershot in October 1936.
The author also offers a fine perspective on the Edwardian period and post 1900 army, particular the Royal Horse Artillery - revealing its remorseless drive for smartness of dress and action, for sound horsemanship and effective gunnery with its 14 pdr 'pop guns'.
In tracing his subject's war author Charles Barrington places his subject and his career in sound perspective. As Garry Sheffield notes in his forward to the book, thanks to the author we know the, "fascinating story … of a small but crucial cog in the machine that was the British Army in the First World War".
Yet Charles Barrington has succeeded in making bricks without straw. Had Mead's letters survived, we would have learned far more about this Edwardian Horse Artillery Officer's as both a man and competent soldier.
Book Review by David Filsell