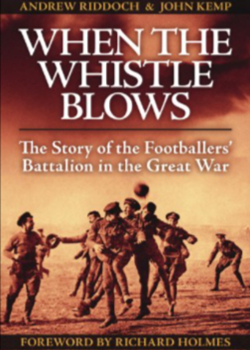 Haynes Publishing, Yeovil, £19.99 (price in 2011)
336pp, 87 ills, 3 appendices, bibliog, source notes, index.
ISBN 978 1 84425 656 3 
[This review first appeared in Stand To! No.90 December 2010/January 2011]
Haynes Publishing - the extraordinary publisher of car maintenance manuals - Andrew Riddoch and John Kemp, football, the Great War - a strange combination which has produced a fascinatingly different history of an unusual battalion.
The genesis, of the 'Footballers' Battalion' - 17th Battalion Middlesex Regiment – was largely to counter accusations that professional footballers were dodging the Great War column.
The authors, aided by a raft of military and football experts, have diligently researched both the pre-war 'beautiful game' and the history of a battalion, its officers and men; the classy professional and amateur footballers, 'mere' soccer enthusiasts, sportsmen and those who joined through interest or fortune. The result is a fascinating tale interweaving the game, those who played it at the turn of the century and the service of the battalion with the BEF. As introduction the authors offer considerable insight into Association Football at the turn of the century, followed by the story of the raising of the battalion and its development. Its service - at Delville Wood, Guillemont and on the Redan Ridge during the German withdrawals, at the Battle of Arras, Oppy Wood and Cambrai – are detailed.
Neither the battalion – nor many who served in it – enjoyed a happy ending.
Sadly, in February 1918, as a result of the inadequacy of reinforcements for the BEF, the 17th Middlesex was disbanded; 300 men were sent to the 13th Middlesex, 300 to the 21st. Most of the remainder were despatched to No. 6 Entrenching Battalion while transport drivers and horses to the 2nd Battalion Machine Gun Corps.
Few, if any, of the footballers who survived the war appear to have resumed their careers with the same level of success that they achieved before it. 
Of the four appendices one offers a comprehensive list of officers and men who served with the battalion, another is a facsimile of a 1914 professional footballer's contract. Equally fascinating is the chronological outline of soccer from 1863 from which I learned that the first £1,000 transfer in professional football took place in 1905 when Alf Common moved from Sunderland to Middlesbrough. Not a lot of people know that!
This entirely original examination and evaluation of what was effectively a Pals Battalion is highly recommended. 
Review by David Filsell