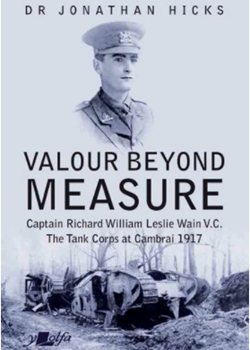 £12.99, Y Lolfa, Talybont, 271pp
154 photographs, 6 maps. 
ISBN 978191263126 1. 
Every November the fallen of the Tank Corps are commemorated at the CWGC Cambrai Memorial at Louverval near Cambrai in a moving ceremony, usually led by Philippe Gorczynski, that indefatigable guardian of the history and memory of the Tank Corps at the Battle of Cambrai. The Memorial commemorates the 7,120 missing of the Battle. During these commemorations a wreath is laid below the list of the Tank Corps' missing (photograph p.241) including Captain Richard Wain VC who was born in 1896 in Penarth near Cardiff.
Author, Dr Jonathan Hicks, a former headteacher of St Cyres School, Penarth, is a military historian and author of four works of military history, two novels and many articles. He has also played a key role in a wide variety of both World Wars' commemorations. Valour Beyond Measure provides a meticulous and interesting biography of Wain, complemented by a large number of well–chosen photographs. It also places Wain in the wider context and finest traditions of the Tank Corps, and its successor, the Royal Tank Regiment, in giving up his life to help the infantry that his tank section was supporting. 
Wain's was a Victorian family which in four generations had gone from labourer to lawyer and Oxford graduate. His grandfather was initially a labourer who became a hotel owner. His father was a lawyer and Oxford graduate. Richard Wain attended a prestigious public school, St Bees, and intended like his father to go to Oxford. Aged 17 in 1914 he volunteered for the army and was commissioned after basic training. His battalion, 16th Manchesters, a Pals Battalion, took part in one of the rare successes of 1 July 1916. Wain was seriously wounded and demonstrated his bravery. 
After recovery he joined A Tank Battalion as it was forming in January 1917. A tank commander at Messines, he was a section commander by the Third Battle of Ypres. Dr Hicks then provides a useful description of the Battle of Cambrai which includes the German perspective. His analysis of Wain's VC is objective and reveals the problems of witness reliability. Hicks then examines the three other First World War VCs, the crew of Wain's tank and the other officers of his tank battalion.
This remarkable and brave group includes Captain Robertson VC and the 21–year–old (in 1918) Major Richard Raikes DSO, MC and Bar. Finally, Dr Hicks looks at the memorials. In 2018 roadworks recovered part of Wain's tank and Philippe Gorczynski is now the proud possessor of its unditching beam. Dr Hicks' book is a detailed and interesting study of Wain's VC and sets his bravery in context. Highly recommended. 
Review by Geoffrey Vesy Holt
[This review first appeared in Stand To! January 2021 No. 121. Members receive the journal of The Western Front Association Stand To! three times a year as well as three issues of its member-magazine Bulletin each year].