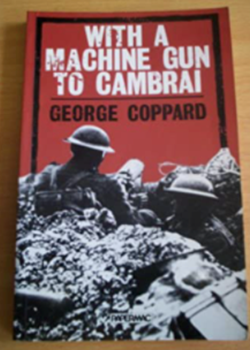 188pp., paperback. £3.95. 
Macmillan/Papermac.
[This 'review' first appeared in Stand To! No.17 Summer 1986]
Originally published in 1969, this is a reprint of the revised edition of 1980. An excellent first- hand account of the life of a machine-gunner on the Western Front.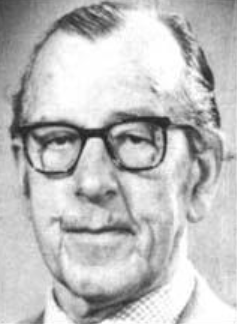 George Coppard 25 January 1898 to 17 February 1985 
George Coppard was born in Brighton  26 January 1898. Age 3 at the April 1911 England Census he was living in Brighton with his 43 year old grandmother, a wash laundress. Ten years later he was still with his grandmother, two of her daughter and a lodger at 51 Buller Road, Brighton. 
He enlisted August 1914 in the Royal West Surrey Regiment giving his age as 19 years and 7 months; he was in fact three years younger. He was sent to Stoughton Barracks in Guildford for training.
He went to France in June 1915 as part of a Vickers-gun team.
He was accidently shot in the foot 17 October 1916 and falsely accused of causing a self-inflicted wound which was later overturned. 
May 1917 back on the front.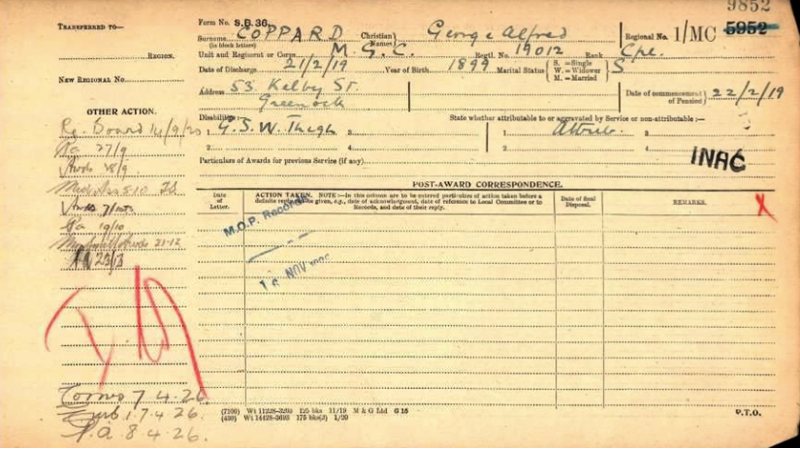 21 November 1917 seriously wounded with a gunshot wound to the thigh during the Battle of Cambrai
Demobbed 22 February 1919, he went through a period of unemployed - he had a disability allowance from his November 1917 wound. He found word as a steward at a golf club.
1st February 1924 married Neiliena. They lived at 51 Kelby St, Greenock.
In 1946 he got a job with the Ministry of National Insurance which he retained until. he retired in 1962.
'With a Machine Gun to Cambrai' was published in 1969.
His wife Neiliena died in 1983. George died in Bexhill on 17 February 1985
Sources: Spartacus, IWM, England Census Returns 1901, 1911; The Western Front Association Pension Cards & Ledgers digital archive on Fold3 by Ancestry.