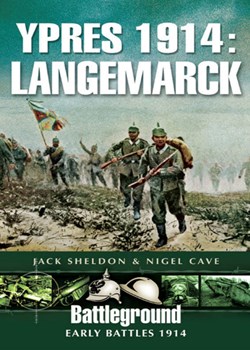 Review by Andy Thompson.
The bitter battles in and around the Langemarck during October and November 1914 have long been neglected by writers and historians. Most visitors, casual or otherwise, who visit the Ypres Salient visit the German Military Cemetery and, normally, travel via Vancouver Corner. They rarely examine the desperate struggle between the British and French armies defending Ypres and the German army determined to out flank them. Indeed, many (including myself!) will not have ventured to areas detailed in this excellent addition to the Battleground Europe series.
It is fitting that two highly respected historians should join forces to produce this brilliant account of the events between October and November 1914. In the early autumn of 1914 Langemarck was unknown to most of Belgians, let alone the wider world and the events as hard-pressed soldiers of all sides fought in treacherous conditions to gain ground around the village. When, on November 9th, the battle was wound down by German High Command Langemarck had gained a reputation across much of Europe. The casualty rates in some of the units deployed were in the region of 90%. Trench system had not evolved beyond shallow, isolated holes scraped in the sodden soil and conditions facing those fighting in the area were difficult at best, appalling at worst.
The narrative is well organised (German helmets and British caps confirm which side of the story is to the fore) and supported by excellent maps, well researched photographs of the people and the places. Good historians choose sources with great care and the authors' use of well selected primary material and appropriate footnotes, are is exemplary and add to the narrative.
As with all Battleground Europe books, Ypres 1914: Langemarck concludes with suggested tours of the battlefield - four are for walkers, cyclists or car drivers (but not coaches). The BE series is now 20 years old. Consequently advice for travellers now recognises that most people visiting the Western Front are comfortable to drive on the continent.
This is a welcome and important work that addresses a neglected battle of the Great War and one highly recommended.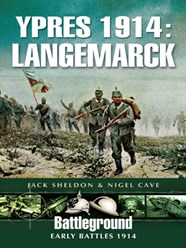 By Jack Sheldon and Nigel Cave
Pen & Sword Books Barnsley 2014
£12.99 208pp ills throughout and excellent maps.
ISBN 978 178159 199 4