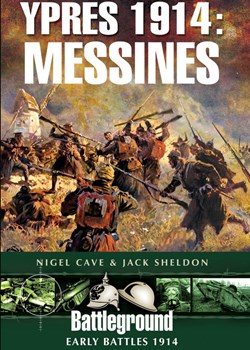 By Nigel Cave & Jack Sheldon
Pen and Sword, Barnsley, £12.99, 214 pp ills 7 maps throughout, German Order of Battle, selected bibliog, index
ISBN 178159201-2
Book review by David Filsell
The actions around Messines in 1914 all too often take second place to events on and to the left of the Ypres Menin road in writing about First Ypres. Here, Nigel Cave and Jack Sheldon's' skills and detailed knowledge provide an important two sided overview of the German assaults on Messines, Wytschaete, Hollebeke and Zandvoorde from October 29th to November 2nd. It is prefaced by valuable introductory chapter on the generally overlooked British cavalry operations in the area between 16th and the 29th of October which climaxed in the German attempts to break fragile British Line and reach Ypres.
There is a sound argument to be made that, without Haig's ability to recreate an effective line of defence after the loss of Zandvoorde on October 30th, that the day was as important to the British as the defence of Gheluvelt the next.. Certainly, after Zandvoorde was taken - and the already weakened Royal Welsh Fusiliers destroyed - the immediate response the battered 7th Infantry Division to turn a weak flank to protect the British line was supported by Haig's remarkably rapid and adroit action in creating a strong stop line. It blocked what some identified then as an easier opportunity for the Germans to reach Ypres (and get behind Haig's Corps). Certainly many who lived through the actions on October 30th and 31st considered the actions of the British Army on both days to be equally important.
Here, with clarity, and their usual eye for the German and British detail, the archives, published histories and personal accounts, Cave and Sheldon is focus on both sides of the fighting. It balances German accounts of its offensive with the actions of the British in dogged defence (and the oft overlooked role of the British Cavalry making shift as infantry with a skill unmatched by the German horsed regiments).  
There is, and never can be, a definitive account of the actions of the British Army on October 30th around Zandvoorde. By then 'the foot' of 7th Infantry Division had been reduced to cadres in which scratch companies made shift as battalions. Most other battalion's and cavalry regiments of the BEF were also fairly battered. Few on that day, whatever their rank, knew, recorded or remember what happened within yards. War diaries were left incomplete, fudged or lost to be re-written later. Casualties were so great there are few if any worthwhile personal records of the days following.
Ypres 1914: Messines - which includes nine of the now traditional tours of the battlefield area - is one of the very best of Pen and Sword's invaluable Battleground works on the Great War. Most highly recommended.