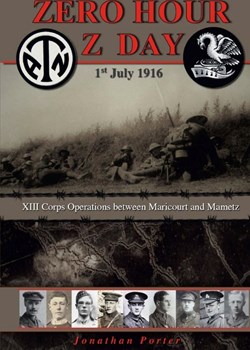 By Jonathan Porter
Self–published, £30.00 hardback, £25.00 soft back,
500pp, ills, photographs and maps in monochrome and colour throughout, 1 Appendix, index.
ISBN: 978–099–569–110–0
Review by David Filsell
Starting a book review with superlatives is bad practice. It either indicates the work of an over impressed reviewer or, perhaps, one on a promotional mission for the author. That said it is impossible to write anything other than 'outstanding' in commenting on Jonathan Porter's unique 500 page long Zero Hour Z Day, a singular analysis of Congreve's XIII Corps (9th, 18th and 30th Divisions) on the first day of the Somme. (To balance my hyperbole I can add little other than that this is not a book sufficiently manageable to read in bed without assistance. It weighs in at six–and–a–half pounds and measures 12 x 8 x 1 ¾ inches).
Author and publisher Jonathan Porter brings a clear soldier's eye, perceptions and long study of the battle and the ground of the Somme to his work. He served for 20 years with the Royal Marines, first with 42 and 45 Commando and then with the SBS. Since leaving the military in 2005 he has co–owned a business in France allowing him to spend long periods on the Somme studying the battle and those who fought it.
His authorial approach is comprehensive, thorough, clear and logical. In seven discrete sections he analyses the formulation of the XIII Corps offensive plan and the ground from Maricourt to Mametz. He evaluates the opposing forces, offers a highly detailed analysis of the preparation and build up to 1 July and evaluates the actions of the 30th and 18th Divisions and the effort to consolidate by days–end.
He concludes with the 'butcher's bill' – removing the wounded, clearing the dead, and closes with a sound and sharp analysis of XIII Corps performance.
Like the late Trevor Pidgeon, author of the renowned Tanks at Flers, Jonathan Porter decided on self–publishing to avoid the dictates and the inevitable penny pinching profit imperative of most publishers. His personal approach also allows the author space to analyse and judge people, places and events in the detail that others writing on the Somme are generally denied due to publishing costs and budgetary constraints.
His freedom enables the deployment of many colour illustrations – photographs, contemporary and modern maps and line drawings – and many monochrome illustrations. It must be added that the printing, design, typography and paper of Zero Hour Z Day 1st July are of an uncommonly high quality.
It is a serious bibliophile's delight.
The book's final analysis is outstanding. It briskly underlines and defines the success of Congreve's XIII Corps and the contribution of his divisional commanders – Maxse (18th Division) and Shea (30th Division) – and notes that 'Their achievements were at the polar opposite of what British folklore would have us believe regarding the supposedly futile and blundering events of 1 July.' Why?
Because of a highly complex combination of sound command, planning, training and rehearsals, thorough, effective preparation, artillery superiority, special weapons, the effective use of mines and, not least, exceptional battle leadership.
Zero Hour Z Day is not simply a cogent analysis of XIII Corps' leadership, planning, all– round expertise and achievements. Whatever happened elsewhere on 1 July, Porter claims that in the planning by and performance of XIII Corps that day there is clear evidence of the birth of genuine improvement in the BEF's capabilities – perhaps the first real indication of the long, often wavering and always brutal 'learning curve' which followed.
Not, at the time of reviewing, available on Amazon, the book is available from Porter's own website – zerohourzday.com – with courier delivery at £4.50 subsidised by the author. Take note: buy the hardback, for like Pidgeon's Tanks at Flers, Porter's book will become a jealously collected work judged essential by anyone with a serious interest in the Battle of the Somme. It is also the first in the author's projected series of works on BEF Army Corps on the Somme on 1 July 1916 and I can barely wait for Jonathan Porter's analysis of Hunter 'Bunter' Weston's VIII Corps.
[This review first appeared in edition 109 of The Western Front Association magazine Stand To! Members of the WFA receive the magazine Stand To! three times a year as part of their membership].