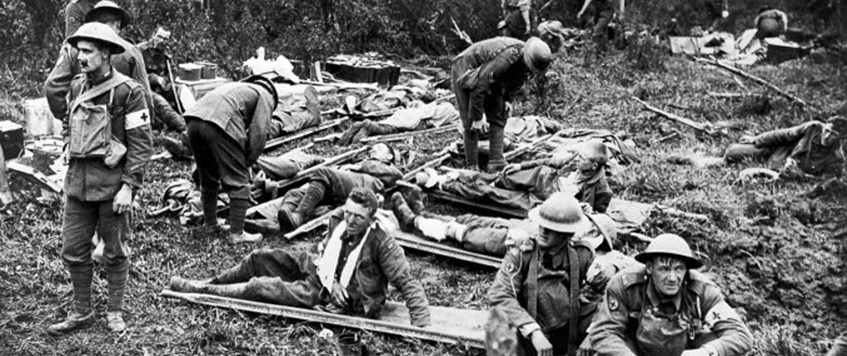 Ed makes a welcome return to the branch to give a presentation on the medical services on the Western Front. For many soldiers being wounded was one of the most common experiences of the Great War. On the Western Front almost every other soldier could expect to become a casualty, with physical injuries ranging in severity from light wounds to permanent, life-changing disability. The Flanders casualty was sometimes literally torn apart. Gone were the neat round holes made by rounded ammunition travelling slowly in the hot, African sun, easily located and extracted and leaving behind no great damage. Now, high velocity conical ammunition  hit fast, went deep and caused massive wound trauma – shell fragments and shrapnel caused massive jagged wounds, tore flesh and muscle and were difficult to stem bleeding. Britain's medical service was small, compact and highly professional – but woefully inadequate to meet this new warfare. Ed will explore their war and how they triumphed through adversity.
Ed is a 
keen amateur historian, Ed has long held an interest in military history and in particular the equipment and dress of WWI. 
As a co-founder of Anglia Battlefield Tours, Ed has worked for the company as a guide and Tour Leader for over 20 years. He also runs his own battlefield tour business, "Past Endeavours", and is a badged member of the Guild of Battlefield Guides. Ed is an experienced battlefield guide and delivers presentations to a wide audience including schools, the military, veterans and adult groups.
Great Stukeley Village Hall, Ermine Street, Great Stukeley, Huntingdon, PE28 4AQ
06 Mar 2024 19:30