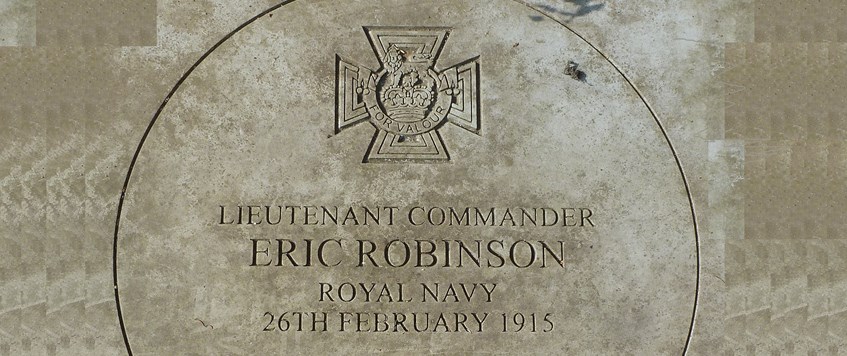 Caption: Commemorative stone outside Robinson's Greenwich birthplace
About the talk: Local Greenwich lad, Clive Wilson, talks about another Greenwich lad, Vice Admiral Eric Gascoigne Robinson VC (1882-1965), known to his friends as 'Kipper'. During his extraordinarily career, Kipper fought in four wars with distinction, sometimes serving alongside his great friend, Roger Keyes.
- Boxer Rebellion, China: As a midshipman on HMS Endymion, aged 18, he saw action and was Mentioned in Dispatches.
- Great War: In 1915 in the Dardanelles, he single-handedly knocked out a Turkish gun emplacement and led his men to take out a second one, winning a VC. In 1916, in Port Said, he went on to earn a further Mention in Dispatches (and the Order of the Nile).
- Russian Civil War: In 1919, Kipper was heavily involved in the taking of the Caspian Sea from the Bolsheviks, earning an OBE and the Russian Order of St Anne).
- Second World War: He was recalled from retirement and served as a convoy commodore until his (second) retirement from ill-health in 1942. He was awarded King Haakon VII's Freedom Cross (Norway).

About the speaker: Always a popular visitor to NW Kent, Clive served in the Royal Signals and with Hertfordshire Constabulary before embarking on a career in military history in 1998. In addition to his books - "Walking the London Blitz", " Wander through Wartime London" and "The Greater Game" - he has contributed to Time Team, Time Watch, Blitz Spirit and CBS's Legacy of War. His specialist battlefield subjects are The Retreat of 1914, The Ypres Salient, 1918, The London Blitz and the Italian Campaign of 1943/44. Clive is the holder of badge number 33 within the Guild of Battlefield Guides and is a member of the British Commission for Military History. He joined the Western Front Association as a child and has provided regular talks and lectures since leaving the Army in 1991. Clive completed his Masters degree in Great War Studies at Wolverhampton and is currently undertaking a PhD. His favourite battlefield to visit remains Gallipoli.
Where we meet: The Royal British Legion Club, Queensway, Petts Wood, Orpington, Kent BR5 1DH. We meet on the last Thursday of each month (except December). Meetings start at 19:30, with the doors (and the bar) opening at 18:30. There are no entrance fees but we do welcome contributions of £5 or more towards our costs.
How to get there: The British Legion Club is next door to Morrison's supermarket and Petts Wood railway station (trains from Charing Cross, Cannon Street, and Victoria). Parking at the rear of the club is free but you must enter your car registration into the machine (on the left as you enter the club). Failure to enter your registration can lead to a £50 fine. There's easy free parking in adjacent side streets.
Royal British Legion Club, Queensway, Petts Wood, Orpington, Kent BR5 1DH
26 Jan 2023 19:30