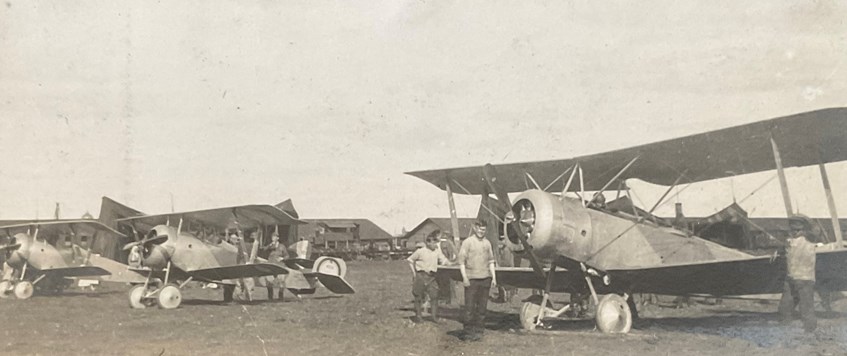 Caption: No 1 Flight, Slavo British Aviation Corps
About the speaker: Andy Tonge was, for 13 years, chair of the WFA Sussex branch and also the European Officer of the WFA EC during most of the Great War Centenary commemorations. In this role he led the WFA presence at government-run Passchendaele events. For many years, he has guided battlefield tours for Flanders Tours and has also organised the annual Armistice Day Poppy Parade in Ypres. His wide range of military history interests span the nineteenth and twentieth centuries. While his focus is mostly on the Western Front, he is strongly interested in Gallipoli and has visited both the Italian and Salonica fronts. An engineer by trade, he has worked in the maritime defence industry for over forty years and therefore has more than a passing interest in naval warfare.
About the talk: Four years ago a small nondescript photo album turned up in Southampton. Typical of many such albums, it was full of scenic views interspersed with occasional posed images of officers in uniform. Closer inspection revealed that far from being yet another unidentifiable set of snaps, this album was a time capsule with many pages devoted to air operations in North Russia in late 1918.  The compiler of the album, Lt Eric Furlong, was commissioned into the Royal Inniskilling Fusiliers, posted initially to Salonika. But sickness took its toll and within a month he was invalided home where following recovery he transferred to the RFC.  His forte was training and he spent some months near Genoa in Italy.  In due course, he was given another "training" role, this time to the Slavo British Aviation Corps. Attached to the North Russian Expedition of 1918, he became a part of "ELOPE" Force operating out of Archangel. Training soon fell by the wayside and Eric Furlong and his fellow British officers became involved in daily combat bombing missions against Bolshevik Forces on the River Dvina. His activities are well documented as his daily combat reports survive in the National Archives and interviews he gave in later life are preserved in the IWM oral history archives. This talk provides a snap-shot into a little known theatre of operations and tells the story of Eric Furlong throughout the Great War to his Second War Service with 92 Squadron of the ATC.
Where we meet: The Royal British Legion Club, Queensway, Petts Wood, Orpington, Kent BR5 1DH. The meetings start at 19:30, with the doors (and the bar) opening at 18:30. Royal British Legion Club is next to Morrison's supermarket and Petts Wood railway station. Parking at the rear of the venue is free but you need to enter your car registration into the machine (on the left as you enter the club). There's also easy parking in adjacent sidestreets. Our meetings take place on the last Thursday of the month (except December).
Royal British Legion Club, Queensway, Petts Wood, Orpington, Kent BR5 1DH
28 Oct 2021 19:30