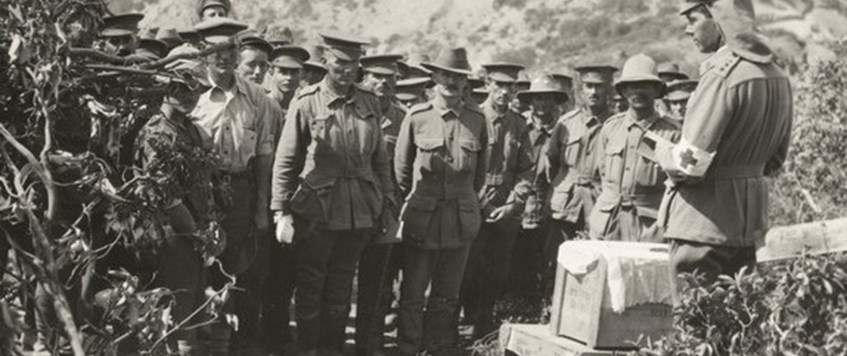 Caption: Gallipoli burial service
This talk examines the role of chaplains on both sides and many faiths in Gallipoli and looks at such issues as the logistics of providing a chaplaincy service, the day to day operational challenges, both in the front line (for those chaplains who ventured forward) and behind the line and collaboration with medical services. It also touches on the nature of combatant faith, fatalism and morale and is sourced from memoirs, academic papers, and other publications.
Carole Hope has a BA (Hons) from the Open University and her last module focused on the political, social, and economic history of the Great War. On completion she decided to look at the military history and made her first battlefield visit in 2000, returning at least once every year since. She has published a biography of a military chaplain and also the memoir of an infantryman who fought in three war zones and was taken Prisoner of War during the German Spring Offensive.
Where we meet and how to get there: We meet at 19:15 for a 19:30 start at the Hewitt Room, Whitton Community Centre, Percy Road, Whitton TW2 6JL. The meeting normally finishes about 21:00. The community centre is close to Whitton Station and on the H22 and 110 bus routes. There are no entrance fees but a donation of £4 towards our costs is much appreciated.
Hewitt Room, Whitton Community Centre, Percy Road, Whitton, TW2 6JL
07 Dec 2023 19:15