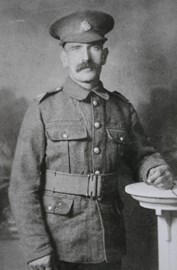 Welcome to the February edition of the Newsletter.  The topical photograph this month is of my great-grandfather John Welch (1876 – 1926), East Surrey Regt.  Unfortunately his records are lost but from family stories he went to France in January or February 1917 after suffering from Pleurisy whilst at Dover Castle.  In the summer of 1918 he was in New End Hospital, Hampstead, possibly with a respiratory problem.  He never regained his health or regular employment and died of TB in Clare Hall Hospital, South Mimms.  During the war he sent home embroidered postcards from France, but sadly these are now lost.  Thanks to Harvey who has passed me a collection of newspaper articles on the war.  I will be including extracts of these on an occasional basis.  Also this month, I am continuing including some of Michael Walker's postcards.          David Adamson.
Future Meetings and Events
February 18th  – Hanna Smyth 'Commonwealth Memorials'
March 18th - Colin Ellender 'The Battle of Mons'
April 15th  – AGM and Simon Jones – 'Mustard Gas Ypres 1917'
Reports of Events
January 21st  – Denise Beddows 'Buckinghamshire Spies & Subversives'
Denise covered a large time period in her talk, starting with the Amersham Martyrs (1414 to 1532) and finishing with the fundamentalist terrorist such as Samantha Lewthwaite.  On the way she detailed the Denham Exorcists; the Gunpowder Plot; a colonial spy ring associated with the Hell Fire Club at West Wycombe (including Benjamin Franklin as a British agent) and cold war atom spies.
In the early 1900s there were two distinct groups of Suffragettes; in the Chalfonts and Gerrards Cross they were very sedate and polite whereas those in Chesham were more militant.  The latter group blew up Saunderton Station, set fire to Penn Church and attacked a golf course.  Emmeline Pankhurst stayed with friend near Newland Park at times and also had a cottage in Stewkley, unknown to the authorities. 
During WWI, all captured women caught spying for Germany were imprisoned in Aylesbury Gaol.  In all there were 12 of them, including a Swede who worked in the Postal Censorship Office and an Irish woman who was married to a Polish "count".  Under the Defence of the Realm Act people could not only be deported from the UK, but also within the country.  D.H. Lawrence and his German wife were deported from Kent to near Chesham as they had been accused of signalling out to sea.  Serviing brothers  Gilbert and Ralph McMicking from Little Chalfont went to Germany in August 1914 on a "walking holiday" until they were captured.  Ralph was exchanged but Gilbert was kept as a prisoner.  Gilbert did escape in the winter of 1916-17 but had to give himself up because of the cold; he was badly treated and eventually succumbed to the influenza epidemic in November 1918.
Vernon Kell was the first head of MI5, in 1916, having been in the army previously.  His initial staff was only 20 people, including typists and a caretaker.  Therefore, to enable him to monitor civilian mail in and out of the country, he set up the Postal Censorship Department which employed 4,000 to 5,000 women working at home.  They were equipped with a kettle to steam open the letters (and the stamps, looking for writing on the back), a candle to develop invisible ink (lemon juice) and a magnifying glass.   Kell was still in post at the beginning of WWII but was sacked by Churchill in 1940.  He went to live in Olney and became a Special Constable.
In the 1930s, the German Ambassador to the UK was von Ribbontrop and he wanted a country estate and lived at Fulmer Rise.  This was conveniently situated near to Oswald Mosely, who lived in Denham.  Interestingly, Mosely lived at Savoy House which was where the Denham Exorcists were based in 1585! 
The Second World War saw the Special Operation s Executive (SOE) using "The Camp" at Gerrards Cross for practicing with their aircraft.  The town was also the home of banker Jan Smits who, with two others, went to Amsterdam as the Germans invaded and brought out diamonds from the bank vaults to save them from being captured.  He changed the name of his house to Walpole House after the ship that brought him back.  "Churchill's Toy Factory" which invented items such as exploding coal for SOE was in Whitchurch.    Cecil Manley worked at Newlands Park but was also a member of the Home Guard Auxilliaries. These were trained in sabotage and would have gone into hiding in the event of an invasion and would have formed a resistance.  Each group had hidden bunker near to their place of work, so it is likely that somewhere near Newlands Park there is a bunker.  Cecil was killed in a motorcycle accident in 1940 and is buried in Chalfont St Peter.  Many Buckinghamshire houses had prominent roles in the war, for example Bletchley Park (code breaking), Hughenden Manor (map making), Wilton Park and Latimer House (POW camps for German officers). 
Finally, Cyril Mills the son of circus owner Bertram Mills lived at Pollards Wood and kept the circus animals there during the war.  He also worked for MI5 working to turn enemy spies.  The film producer Sir Alexander Korda lived in Denham (in a house later owned by Sir John Mills) and also ran a spy network.
For those interested in more information were able to buy copies of Denise's book on the same topic and also some of her other books at the meeting.
Soldiers Remembered: Sapper William Henry Cox, Canadian Engineers  - 21/1/1917
Sapper William Henry Cox who was KIA 21st January 1917 aged 30. He was serving with 9th Field Company Canadian Engineers at his death. William was buried in Ecoivres Military Cemetery, Mont St Eloi. He is remembered in his home town of Slough where he lived with his parents Henry & Mary on Belgrave Road which is off Stoke Road. After leaving Slough, William worked in Alberta, Canada where he enlisted on 15th May 1916 in the town of Banff. 
Postcards from Egypt – Michael Walker Collection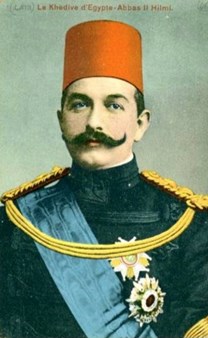 Here are two more, splendid post cards sent by Michael's father from Egypt in WWI.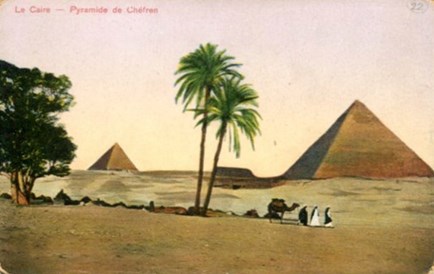 Please see January's Newsletter for details of Michael's father.
Harvey's Interesting Snippets
For those of you familiar with the BBC comedy "Blackadder Goes Fourth" you may be interested to know that research has shown that there were real namesakes for the main characters, who fought in WWI.  The real life soldiers were: Capt Robert John Blackadder (16th Battalion of the County of London Regiment), Pte James Baldrick (Royal Inniskilling Fusiliers), Lt Athelstan Key Durance George (Dorsetshire Regt) and Capt John Clive Darling (20th Hussars).  From The Times of 25th June, 2014.
Forthcoming Events
3rd Ypres Commemoration Tour
This tour, in conjunction with Rifleman Tours will be between 30th July and 2nd August 2017.  More details are available from Nigel.  If you may be interested please note the dates now and let Nigel know of your interest.
New Middlesex Branch
A new branch of the WFA is being set up and Chairman Stephen Mason (Tel:020 7326 5246) has passed on details of their first few meetings.  The plan is to keep in touch with Stephen to ensure that we have different talks at the two branches and to avoid the same meeting dates. 
Venue: St Philip and St James Parish Hall, Vicarage Road, Whitton,TW2 7BY usually on the 2nd Saturday of each month except August and December (no meeting) and November (4th Saturday) at 15:15 for 15:30-17:30. Venue close to Hounslow Station and on 281 bus route.
10th June
Ever More Challenged: The British Army 1917 by Charles Messenger
8th July
Oswald Boelcke - Father of Aerial Warfare by Bill Fulton
August – no meeting
9th September
The Royal Navy and the Dardenelles by John Peaty
14th October
The Fight For Delville Wood & The Story of a Remarkable Man by Andy Tonge
25th November (NOTE change of date from normal)
Balkan Purgatory – the 60th (London) Division in Salonika, December 1916 – June 1917 by Charles Fair
December – no meeting
Commemorative VC Paving Stones: Frederick Youens 9th July 2017 at 2.30pm

Many of you are probably aware of the project to place a commemorative paving slab for every WWI VC winner in their home town.  One will be unveiled in High Wycombe next year on 9th July; more details on this will be included in the Newsletter when they are available.  There is also an interactive map showing all stones laid to date: Victoria Cross Paving Stones.